Star lineman alum raises NFL draft stock
Former First Team All-American offensive lineman Quinn Meinerz has the guts to make it big in the NFL.
The UW-W alum drastically improved his draft chances in the January Reese's Senior Bowl held in Mobile, Alabama. Meinerz made a huge media buzz for his domination over upper level D-I players and his gut hanging out on the field. The performance earned him Offensive Lineman of the Week. Meinerz injured his hand during practice, which kept him out of the game, but his presence in practice all week and determination has caught the attention of the NFL.
After the Senior Bowl Meinerz checked back in with his alma mater to discuss how his time as a Warhawk helped him excel through the NFL draft process.
"You know when you are playing Division III football you aren't getting your school paid for and you are not playing in these massive games, but you really love the game. You know these guys that are on the football team at Whitewater – we really just love the game of football," Meinerz said. "I think that is a huge part of going into the NFL. I think you really have to love the game, and that is something I already have because I went to a smaller school and I am doing the exact same work that a Division I player is doing. The love of the game is huge and you have to have that to create longevity to play in the NFL because I think a lot of guys lose that motivation and get complacent, but I have unlimited fire when it comes to football." 
"The Gut" Meinerz earned his nickname from high school and college for always letting his belly hang out when playing football. It's a testament to his fully committed concentration on performance rather than perceptions. It's something he's continued since learning there was still a chance to play professionally, even during the pandemic.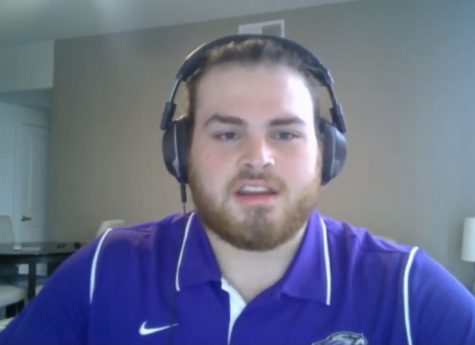 "My foundation has always been built on hard work and discipline. being creative with the pandemic, gyms were closed so I moved back home in Hartford and was able to train in the basement and backyard. That way I could have more control of what was happening," said Meinerz. "I am a huge goal setter and I have been doing whatever it takes to achieve those goals. In the past year I have been eating clean every single day, getting enough sleep every single day because I know how important that is." 
The next step for Meinerz is to have a successful Pro Day to improve his NFL draft stock even more. There he'll be able to show off all the skills and drills he learned at Whitewater to the NFL scouts. Meinerz has some specific goals he wants to achieve in those drills as he continues to stay committed to being a goal setter.
"I want to run a 4.9 40-yard-dash. I want to bench 225 pounds 35 times. I want to be able to hit 9.5 feet on the broad jump and 30 inches on the vertical. Hit a good time on the L drill, and keep nailing the interview process. I know I will do good in the medical process as the only injury I have had is my hand injury right now, which is minor so those are the next goals for me," he said.
Warhawks will be watching with pride this March for Meinerz's Pro Day performance, and are expecting his name called in the first 100 draft picks this spring.