Voters' choices swayed by students' voices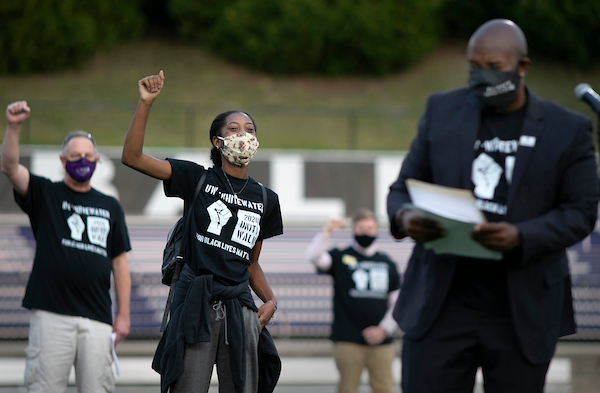 As a student at UW Whitewater, there are many different ways to be active in advocation for different policies and rights as elections are around the corner. Even if someone is not voting or are unable to vote, they still have the ability to sway the minds of people who are voting. Everyone still has the chance to make a change or a difference. Being in college means it's time to be bold. These are ways to reach people who are voting and maybe educate them on a topic or let them know how many people they will be affecting. 
College can make it easy for people to join together with their friends and start campaign rallies. Attending rallies or speaking at them makes it so that your voice can be heard. In connection with rallies, protests give the same opportunity. Both allow not just signs to be seen or voices to be heard but allow a conversation to be started. Rallies and protests are usually the "newsworthy" ways of advocating for different things. The masses of crowds they can bring attract a lot of attention and spreads different messages like wildfire. 
Another way of making a difference without voting that spreads like wildfire is social media. Between Instagram, snapchat, twitter, Tik Tok and yes, even Facebook, millions of people see and listen to millions of other people's opinions. When opinions are agreed with they get reposted and forwarded and so on and so forth. People have the ability to link sources and websites to their posts as well in order for people to learn more or to see if facts are valid. Although social media can be looked down upon for some of the things it circulates, it is a great way to reach people near and far. Everyone has the time to watch an informational clip or post when they are already scrolling through social media anyways.
Aside from the bigger and more popular ways of advocating for different things as elections come around, there are students who simply set up tables in front of the University Center. A number of different programs, clubs and organizations set up their tables with different papers and people that give information on specific topics. Obviously the people and papers aim to convince or give further knowledge about their side of things, but that is what elections are about. We can expect to see a number of different opinions and subjects being talked about, especially between both democratic and republican tables.
So, people can usually expect things to get a little spicy and heated around elections. There are twitter wars and bashing on all platforms including debates that are face to face. But, people hear about it and ultimately, the point is to get the message across to people. These ways as well as more give the ability for people to do just that.