DREAM organization works for disability rights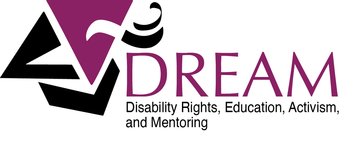 UW-Whitewater is ranked fifth among the top 10 wheelchair-friendly campuses in the nation. This pride in being accessible to persons with disabilities stretches farther than just the construction of the campus, however. The school administration also encourages students to join any of their three disability interest groups: Delta Alpha Pi International (DAPI) Honor Society – Gamma Sigma Chapter, American Sign Language Club (ASLC) and Disability Rights, Education, Activism, and Mentoring (DREAM.) All three of these groups share a common goal to advocate for those with disabilities here in Whitewater and on the UW campus.
DREAM is currently searching for new members to join their club and become advocates for those with disabilities. They especially are looking to find students who have disabilities themselves so that they can have a place to speak out their thoughts and opinions to an audience who are interested in what they are going through and willing to find solutions to accommodate their needs.
"I think Dream has given everyone, especially our regular members who come each week to have a safe space where they know they can talk about these topics openly and freely without having to be afraid of being judged or having their opinion judged. Our biggest goal is just to create a safe space for everybody and I think we're doing that by allowing them to speak their voice and their minds. Having conversations to help advocate and to teach individuals how to advocate even." Said DREAM President, Alexis Koenig.
Although there has been much progress over the decades in regards to the rights, education, activism, and mentoring of persons with disabilities there is still a long way to go until these individuals are regarded with the same respect as those who are able-bodied. Invisible disabilities and mental health disabilities are still stigmatized in our society and cause those who are living with these conditions to be hesitant to speak up for themselves.
"I also identify as an individual with a disability, so I felt like I could relate to what students had to say and concerns they may have about accessibility and such. I also believe that advocacy is extremely important. With DREAM I am able to continue to advocate for students, as well as learn more about lived experiences people may have had and what we can do better to make campus more accessible." Said DREAM Advisor, Alexandra Potratz.
As we are slowly but surely emerging out of the pandemic it is now more important than ever to continue to support and participate in these advocacy groups. Whether it be for a few hours each week or regularly throughout the day there are many ways to support your community and classmates.
"Last year covid really impacted a lot of student organizations, such as a drop in membership numbers. I experienced seeing that restraint, not being able to do as much outreach in classrooms. Involvement last year wasn't really a thing due to the virtual platforms where you did not get as much flow as you usually would. I think being able to be back in person this year has really helped just because we have been able to do more outreach through the involvement fair and just being able to see members and students on that face-to-face basis. So, I am really hoping the next couple of months we can just continue to create this momentum to bring awareness on who we are and what we are talking about and really work to collaborate with other organizations to keep us present on campus." Said Koenig.
To get more information on UW-Whitewater's Disability Interest groups click here: https://www.uww.edu/csd/current-students/disability-interest-groups
To get more information on DREAM click here: https://www.uww.edu/csd/current-students/disability-interest-groups/dream