UW-W nixes mask requirement in classrooms
The chancellor's order requiring masks in UW-Whitewater classrooms expired March 18. Now the most recent order only requires masks to be worn in clinical and health care facilities, the Children's Center and areas of food preparation for employees only.
In coordination with the chancellor, the Emergency Operations Committee (EOC) has been closely monitoring the conditions surrounding the pandemic to make recommendations to the UW-W Cabinet concerning the COVID-19 pandemic. The group, which is made up of Whitewater campus police officers, members of the university health center, and others decided not to reinstate the mask mandate.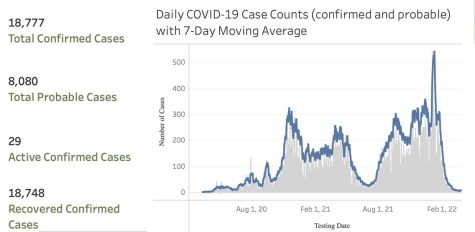 "What it amounted to is when you would look at what the CDC recommendations were, when we looked at what the Wisconsin Department of Public Health and what their recommendations were at that point, what our local health departments were recommending at that point, what we saw for numbers of testing results and positive cases – those types of things. We just didn't see a statistic or the evidence that required us or really even pushed us to continue requiring masking in the classrooms," says UW-W Chief of Police Matthew Kiederlen, who is the coordinator of the EOC. 
In Walworth County the number of confirmed cases dropped from 260 Jan. 10 to four cases reported March 30. Along with this, 6,305 confirmed cases in the entire state of Wisconsin were reported Jan. 9 of this year dropping to 151 confirmed cases March 31.
"I think there were two big factors when you look at the CDC and kind of how they're moving forward now. For the first time in a long time, our medical care system is not just being overwhelmed by COVID cases. And that's a key factor there," says John Ejnik, chair of the Chemistry Department. "And the other factor is just declining cases. There's absolutely no doubt that masks make a difference."
Though Ejnik says he understands why masks are no longer required in Whitewater classrooms, he urges students to protect themselves through the COVID vaccine. 
"I think in the next year or so this pandemic is going to officially be labeled an endemic. And once it's an endemic, we go about living with COVID just like we live with the flu. Every year people choose to or not to get their flu vaccine. They can choose to get their COVID vaccine," says Ejnik. "Everybody has had the opportunity to get the vaccine. The vaccine is effective, and this is still the situation where people are like, 'I can still COVID if I've had the vaccine.' But the data clearly indicates that if you get COVID and you've been vaccinated the symptoms are greatly, greatly diminished."
According to the CDC, a total of 77 percent of the total population has at least one dose of the COVID-19 vaccine. In the announcement of the chancellor's new order, students are urged "to stay up-to-date on your vaccinations, wear a mask if you choose and stay healthy in general." 
Kiederlen emphasized protecting others and also making yourself comfortable as the pandemic stretches into 2022.
"The important thing to remember is that you're not required to not wear one. Currently, if you still need that level of comfort, you have that rise of concern, please continue to do it. And if you're in a situation where you really feel uncomfortable, there's nothing wrong with asking someone else to or finding a different venue in which to interact," Kiederlen said. 
N95, KN95, and surgical masks will still be offered for free on the UW-W campus, as well as COVID-19 testing on both the Rock County and Whitewater campuses.
For information about COVID-19 testing on campus visit https://www.uww.edu/warhawks-are-back/testing. For Center for Disease Control and Prevention information visit https://covid.cdc.gov/covid-data-tracker/#datatracker-home.  To visit the UW-Whitewater COVID-19 Dashboard visit https://www.uww.edu/warhawks-are-back/dashboard.