Warhawks knock off #1
The 6th ranked UW-Whitewater football team (1-1) defeated the top ranked defending national champions the Mary Hardin-Baylor (TX) Crusaders (1-1) 28-24 at Perkins Stadium, Saturday Sept. 10. The game was a rematch of last season's national semifinal, UMHB handed the Warhawks a 24-7 loss in that 2021 game.
This game was the second top five opponent that the Warhawks have played in as many weeks, a challenge for a team who plays in what has been the toughest conference in the country for many years. In week one they lost to St John's 24-10, an uncommon regular season loss for Whitewater.
"Losing one, you know it stinks, but I think it's good for us to see that and realize what we had to do to be better," Tyler Holte said.
Head Coach Kevin Bullis praised his players for trusting their coaches and each other to be able to keep their emotions in check not only during the week but also during the back and forth affair with Mary Hardin-Baylor.
"To believe and trust what I say and what our coaches are saying and each other, that's what it is, it's trust. That's the part that's really touching, it really hits to the core of what we do," Bullis said.
The Crusaders hit the ground running, with a 12 play 75 yard drive to open the game. Running back Aphonso Thomas ran it into the endzone from one yard out to cap off the over five minute long drive. 
"That's the same offense we played last December," Bullis said. "And that offense is really good. I mean holy buckets, they're phenomenal…They're so good that it's not like you're just going to stop them, you're not going to just stop them. You're going to get your stops on them and then be able to slow them down."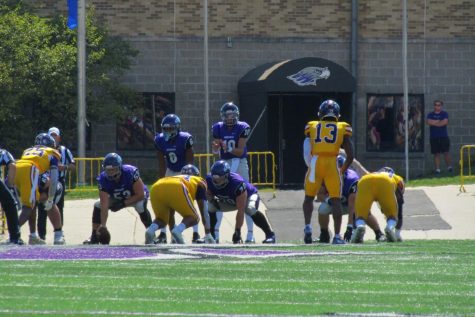 Whitewater answered back fast with a five minute drive of their own, marching 75 yards over nine plays. Warhawks running back Jaylon Edmonson, who would finish with 65 yards, scored with a one yard run to tie the game at 7 with 4:35 remaining in the first quarter. The Warhawk defense would go on to get the first stop of the game, setting up another Whitewater touchdown drive.
Evan Lewandowski, senior starting quarterback for Whitewater, found Tyler Holte for a 17 yard touchdown pass, capping off an 11 minute and 15 second drive to give the Warhawks the lead. The pass was part of an 11 for 11 completion streak to start off the game.
"I'm already onto the next play, I wasn't worrying about that. I'm worried about what they're doing next, what we got going," Lewandowski said.
Mary Hardin-Baylor was able to make a field goal before halftime. The score was 14-10 at the half. 
The Crusaders opened the second half with a quick drive down the field, with two big completions to Brandon Jordan, giving them the lead back 17-14. Jordan finished the game with five receptions for 107 yards.
The Warhawks came right back with yet another drive of over five minutes. Lewandoski was able to scramble out of the pocket to buy time for Holte to get open enough to complete an 18 yard touchdown catch and run. 
The lead did not last long for Whitewater, Mary Hardin-Baylor got right back to work and scored in their next possession. The Warhawks trailed 24-21 heading into the fourth quarter. Mary Hardin-Baylor drove to the Warhawks' 1 yard line but was stopped short of the goal line three on three consecutive run plays and on fourth down a Whitewater defender knocked the ball out of Crusader hands, securing the goal line stance. 
"That fourth and 1 stop down there? Jeez louise. I mean and the three plays prior. It wasn't just one stop, it was four of them and they set the plate and coach Pesik and the offense took advantage of it," Bullis said.
"We had four straight stops of we're just going fast, and it works," said defensive lineman Reed Farrington. 
Whitewater had 2:47 left on the clock, down by three, to go 99 yards. The Warhawks marched down the field to the 27 yard line in almost a minute and a half. Lewandowski, from nine yards out, hit sophomore wide receiver Tommy Coates in the corner of the end zone for the go ahead touchdown with 19 seconds remaining.
"We went out there, we knew we had to go at least get a field goal, get in position to at least get a field goal. But in our minds we were out there to score," Holte said. "We were able to move the ball all game so we were very confident… We knew for a fact that we were going to go down there and finish them off."
The Warhawk defense was able to ward off the Crusader's final attempt at victory, giving Whitewater the game. 
"Definitely extremely, very very proud of these young men. Coming off our loss last week, we played against a very good team as well last week," Bullis said. "Really proud of our guys and our physicality on the offensive line." 
The Warhawks ran for 109 yards on 36 attempts against what Bullis called one of the most physical teams that Whitewater may play all season. Lewandowski finished 28-35, good for 301 yards passing and three touchdowns.
"Extremely proud of Evan Lewandowski, Evan was not very happy with his play last week [against St John's]. This week you saw what Evan can do and we've seen what he can do," Bullis said. "For him to be able to go out and show people that he can really lead that offense and control the ball, that's ultimately what he allows us to do, is control the ball."
The Warhawk defense allowed 336 yards, while the offense garnered 410 yards. Most importantly, the Whitewater defense kept their opponents off the scoreboard in the fourth quarter, allowing the offense to secure the win.
Whitewater will travel to Georgia to play Berry College Saturday, Sept. 17 then enjoy a bye week before opening WIAC play. The Warhawks will not return home until Friday, Oct. 14, against UW-Oshkosh, that game kicks off at 7 p.m.