Senior night shutout
Women's soccer wins over Luther College
The UW-Whitewater women's soccer team celebrated Senior Night appropriately with a win against Luther College on Wednesday Sept. 14 at Robert Fiskum Field. In their first home game of the season the Warhawks won the contest 2-0 and scored on a goal from sophomore defender Allie Prigge and a penalty kick scored by sophomore midfielder Jordyn Czarapata.
After a scoreless twenty minutes in the first half it was Whitewater that struck first to set the tone of the game. Senior Megan Howard set up teammate Allie Prigge with a beautiful cross that Prigge finished off with a header into the back of the net. 
"It feels really great. I have a lot of trust in Allie. We have played together a lot and I knew she would be there to finish it at the end. That's what we do," Howard said.
Howard came up big again in the second half when she drew a penalty in the box from Luther defender Lauryn Larson. Whitewater was awarded a penalty kick and capitalized with a goal from Czarapata. Czarapata's goal was the last of the contest and gave the Warhawks a 2-0 victory.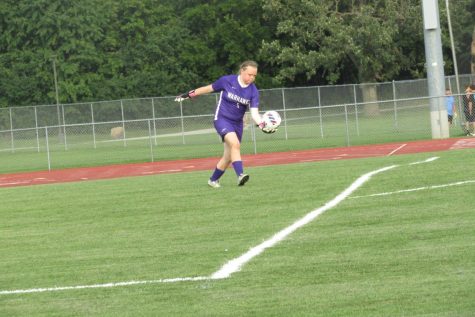 Head Coach Ryan Quamme was pleased with his team's efforts and ability to finish the game on top, but also recognized that it may not have been the Warhawks best performance.
"Tonight was not the prettiest, most disciplined game we have ever played, but we are finding ways to win," Quamme said.
In addition to recording the team's third win of the season, the night was made even more special with the Senior Night celebrations that recognized five of the Warhawks players that have entered their final season with the program. 
"Senior day for our five seniors is really important. Obviously having dealt with that COVID year they have been through a lot so it is very nice to get a win for those five," Quamme said. "We look at it like we are playing the whole season for them but it is nice to recognize them at an individual game."
The University's Athletic Director Ryan Callahan and Interim Chancellor John Chenoweth took to midfield at halftime to honor Sarah Clancy, Kari Webber, Jessica Smeltzer, Megan Howard, and Megan Kurtz who are all playing their last season as Warhawks. 
"Senior night means a lot to us, these athletes have put in four or five years of their life to this program, it is a really special night for us," said Howard. 
The Warhawks will travel to Kenosha this week to take on Carthage at 7 p.m. on Wednesday Sep. 21. Whitewater will look to keep their momentum going as they start to enter the heart of their season.