Warhawk Football captain all about team success
MVP Q&A feature with Wide Receiver Tyler Holte
Tyler Holte is a senior and a captain on this year's Warhawk football team. He is a three-year starter and has been a spark for Whitewater and their exciting, high-octane offense the past few seasons. Last year, Holte finished with 49 receptions, with 792 yards, and 11 touchdowns. His on-field production helped earn him a WIAC honorable mention nod. 
This season, in just the first two games, he had 16 receptions, for 224 yards, and three touchdowns. He had a 10 reception, 124-yard performance against the then No. 1 ranked team, Mary Hardin-Baylor (TX), in which he also scored two touchdowns. Holte is off to a fast start this season and hopes to keep building.
Q: Why did you choose to come play at UW-Whitewater?
A: They really showed a lot of interest in me when I came here on my visit.. The coaches were very down to Earth, they were themselves. They were the same guys that I met on the visit as they were when I arrived here… A lot of schools, you know, you go on a visit and the coaches are super happy and super nice the whole time. Then you get there, and they are not at all what they seemed like. But these coaches were exactly who they were on my visit. Also, the facilities, and just me having the opportunity to be able to play right away when I got here, were big reasons why I chose to come here.
Q: What does playing for a program with such a winning tradition like Whitewater mean to you?
A: It's very special because coming from my high school, we didn't win the most. We were a middle of the pack team, about .500 every year, so coming here and seeing all the work that's put in, not only from the players, but the coaches and everybody that is involved in the program. It's really something special to be a part of because you just see, every day, how much people are grinding and putting in work to be at the level we are at… So, it's very special.
Q: Last year, what did it mean for you to earn a WIAC Honorable Mention award at WR?
A: I did feel like I could have been on 2nd Team All-WIAC, but you know, at least having that recognition, coaches in the conference seeing that, and giving me the honorable mention, that did mean a lot. Even though it was just an honorable mention. This year, I am just doing what I can to help the team get to where we want to be as a team, and if a first team [award] happens. I will be happy, but my main goal right now is to help us win the conference and ultimately win a national championship.
Q: What are your goals as a team this coming year?
A: Starting off the year with a loss is not what we planned. But our goal every year is to win the WIAC and that's why we schedule these tough non-conference games. We know they, win or lose, will get us ready for that WIAC schedule. Then after winning the WIAC, we can talk about the goal of pursuing a national championship. But, for now, we just focus on winning the WIAC, doing what we can every day, to be the best version of ourselves. Going 1-0 each week.
Q: What are some individual goals for this coming year?
A: Individually, this being my last season, I set the goal as a freshman, that by my senior year, I wanted to be an All-American, or even get an All-Region honor, something like that. But, first-team All-WIAC is definitely a goal, for sure. Those three honors are all goals I have in my mind. Also possibly, having a 1,000-yard season, would be very cool. Along with winning with the team, which is the number one goal.
Q: Looking back, how do you feel about your career as a Warhawk thus far?
A: I'm very happy with my career. I would say I am very blessed with the opportunity to be able to come in and contribute right away as a freshman, it may not have been the most, or as much as I would have hoped for, but getting the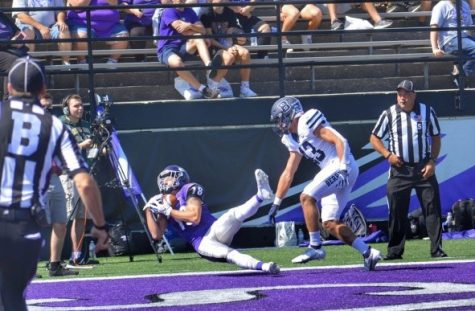 experience playing at the varsity level right away as a freshman and then, being put into a starting role as a sophomore, and then progressing as the years went on. So, I am very pleased with how it has went and that is a credit to all my teammates trusting me and believing in me, to be able to make those plays, and the coaches too, trusting in me and believing in me to put me out there, to be able to make plays, to help the team be successful.
Warhawk fan or not, it is hard not to root for a player who is team-first oriented. Holte is passionate, dedicated, and focused on winning this season. As always, the whole community of Whitewater is behind Holte and the rest of the Warhawks football team. Keep an eye out for Holte as he keeps putting up incredible numbers and helps to lead the Warhawks to victory.