Art exhibit focuses on community building
Campus and community members gathered to discuss inclusion and mental health at Roberta's Art Gallery Sept. 14, for the reception of Jennifer Bastian's "Hold Together" exhibit. 
Bastian, an interdisciplinary artist living in Madison, uses her art to advocate for mental health and inclusion, as well as social justice. Bastian noted that her art practice starts with photography, which she uses to understand the world around her.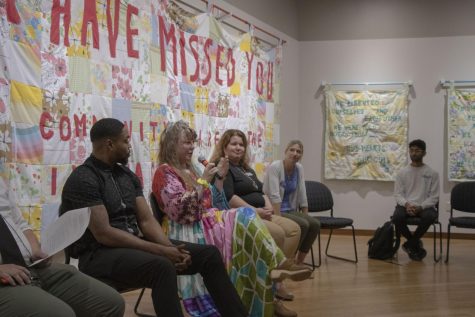 According to Bastian, the camera helps her cope in social spaces she is not comfortable in. The photographs that she takes are also pivotal for her art practice because the emotions connected with those photographs inspire her meaningful textile pieces. 
An example of her textile work is the centerpiece of her exhibit, a banner that says, "I Have Missed You: Community Care is the Intimacy I Need." During the pandemic, Bastian displayed this piece on a porch in Madison. 
"The piece is part of the Terrain Biennial, which is out of the Chicago area and is about bringing public art into private spaces," said Bastian. 
The reception not only honored the work of Bastian, but also featured a panel of guest speakers, including Program Specialist Aaron Broadwater, University Health and Counseling Center counselor Jenny Kwapil, and Associate Psychology Professor Dr. Heather Niemeier.
When asked what community meant to him, Broadwater said, "Community is somewhat subjective. I think that different people have different levels of understanding of what a community might be for them. For me specifically, community is an area where you can go and people may share the same identities in some way, shape, or form." 
The panel also discussed how they and others were impacted by the pandemic. Counselor Kwapil explained that many of her patients lost their sense of community and that they had to find pieces of community during pandemic restrictions. 
Although finding community during the pandemic was also difficult for her, Kwapil said, "I had a boost of community in that my older kids came home." For her, the pandemic restrictions were a mixed blessing because they brought her family together. 
The panel shared that despite the impact of the pandemic, students, faculty, and Whitewater residents can still foster community through inclusion. 
Broadwater said that inclusion involves "fostering a sense of openness and willingness to get to know people who are different than you and not just doing it for a job, but doing it for your own personal growth."
Bastian, who is the co-founder and director of Communication, a non-profit organization located in Madison that seeks to provide a safe and welcoming space for artists of all backgrounds, said that the organization builds an inclusive community by "putting marginalized voices to the front." She explained that the pandemic challenged the organization to not only listen to youth and continue its work with social justice, but to focus on disability rights. 
"It's been a beautiful way for me to learn and grow," concluded Bastian. 
The "Hold Together" exhibit can be viewed at Roberta's Art Gallery until September 28th. For more information, visit the art galleries website here.