Volleyball soars to top of WIAC standings
The UW-Whitewater women's volleyball team defeated UW-Stevens Point 3-2, on Wednesday, Sept. 21 at Kris Russell Volleyball Arena. Senior outside hitter Erin McNeil led the Warhawks past the Pointers with the game high 23 total kills. 
Heading into the matchup both teams ranked in the country's top 25, Stevens Point at 12 and Whitewater not far behind at 15. Both teams also entered the contest with a 1-0 record in WIAC conference games. The Warhawks victory brought them to the top of the WIAC standings, and will likely earn them a jump up in the AVCA top 25 as well.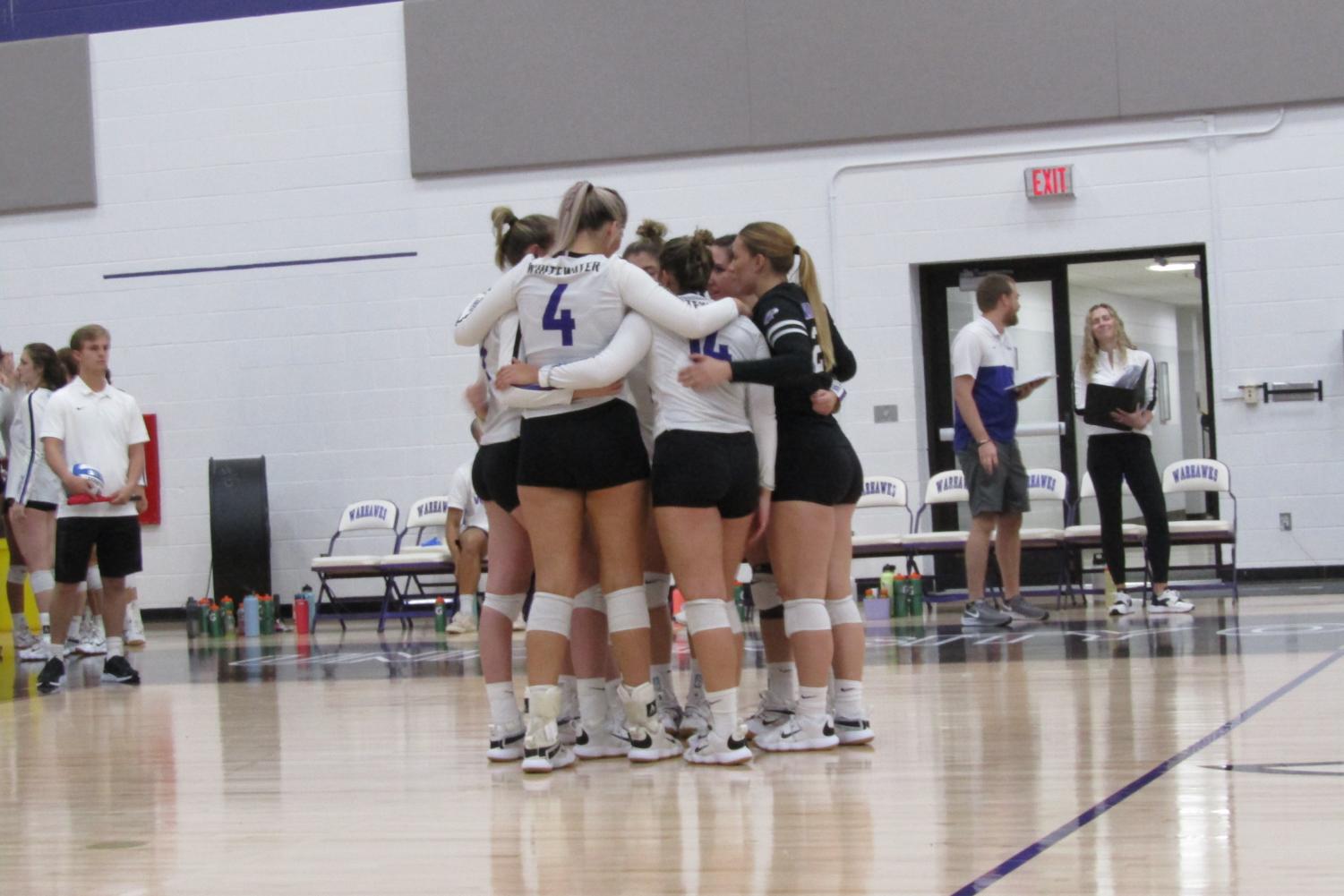 "We definitely anticipated a great game," said McNeil. "Stevens Point is a good team and we knew that. I think what is great about our team is that we have the ability to stay calm and believe in each other."
Stevens Point came out strong in the first set and defeated Whitewater 25-17, to give them an early 1-0 advantage. Pointers sophomore outside hitter Ashley Kopp took control with 9 kills on 15 total attacks. 
Despite Kopp's blazing hot start, Whitewater was able to put a stop to her dominance. The Warhawks held Kopp to just 3 total kills as they fought off Stevens Point in the second and third sets. 
"Kopp is a great player," said Whitewater head coach Stacy Boudreau. "We made a slight adjustment to how we were blocking her after the first set. We also served very aggressively, and that took out their quicker attack and made it possible for us to key in on her a little bit more." 
Although Whitewater's efforts proved successful, Stevens Point stayed tough in the fourth set. With Whitewater one point away from a victory at 24-22, the Pointers battled back and won the fourth set to tie the match 2-2. 
Whitewater setter KellyAnn Sotiros set the tone in the fifth set with an ace to give the Warhawks an early 1-0 lead. The veteran Sotiros recorded 5 total aces in the match, along with 35 assists and 25 digs. The Warhawks kept their composure throughout the final set and secured their victory with a 15-9 win. 
"Fifth sets are always hard, you definitely don't want to go to a fifth set if you can help it, but it is fun to battle," McNeil said. "We practice it all the time, I think this team feeds off of intensity and high pressure situations so that is good for us."
Whitewater certainly came through with the game on the line, and coach Boudreau gives credit to the experienced lineup.
"We have really great leadership on this team, a lot of players who have been in this situation before and love playing in front of the home crowd," said Boudreau.
Now atop the WIAC conference standings the Warhawks look to keep their momentum going against their next conference opponent on the road. Whitewater will travel to River Falls to take on the Red Falcons on Friday, Sept. 30.