Storytelling comes to Whitewater
Storytelling is an important part of our history. Before radio and television, storytelling was the main source of entertainment. But for many today, it's an artform left in the past. With events such as the Whitewater Storytelling Festival, tellers of tall tales are able to bring this forgotten art to life once again. 
"Stories are the most effective way to process information," said Emmy Award winner Jim May. "As for festivals, festivals bring people together. And the best festivals have a lot of diverse stories." 
The second Annual Whitewater Storytelling Festival, which took place Sept. 23 – 25 was an event where storytellers from all over the Midwest came together to tell their stories – whether they were long or short, fiction or nonfiction.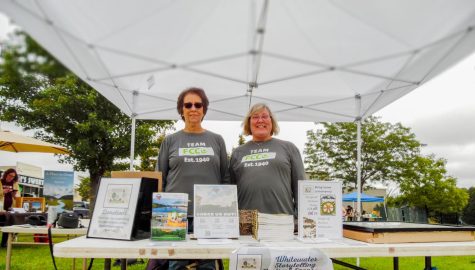 "Other than some small events here and there, this is my opportunity to create something larger that would draw people into the community," said event organizer Kellie Carper. "The chamber is all about promoting community." 
Stories ranged in topic for youth and adults alike including folk tales, scary stories and adventures to name a few. With a wide range of performers such as renowned storyteller Sarah Beth Nelson, there were all types of stories that were told. 
"I think that stories, especially with folktales, stick around if they are important – like if they matter to people. I think they tell a lot of truths about being human and making connections," said  Nelson. "I think that is true with personal stories as well. People will often tell different personal stories over time, but they help us make connections and realize that we are not alone – and that people do have a lot of, if not the same, experiences."   
Stages for spinning a yarn were set up all around town inside and outside. A children's story zone held games and activities for youngsters and interactive storytelling workshops were available to people of all ages. Other events included a "story stroll," where participants could read a piece of literature while walking through downtown Whitewater. The evening held an open mic night for amateurs to tell their own tales, and in Kravath Lakefront Park there was even an artisan market where a unique poem could be written just for that special someone. 
"We do not do storytelling festivals anymore, but it used to be common place. And we were so close at the time when we did that," said local resident Chad Johnstone. "That is something that I would really hope for with this festival, because then that would grow and grow. And people would want to go to more festivals, and tell more stories."