Volleyball wins 11th straight
The UW-Whitewater volleyball team defeated UW-Platteville 3-1 on Tuesday, Oct. 4, at Kris Russell Volleyball Arena. Senior outside hitter Jenna Weinfurt led the Warhawks with 12 kills in the match. Weinfurt also recorded 3 aces and 3 digs throughout the contest.  
With a win against Platteville, Whitewater will stay on top of the WIAC conference standing and improve their conference record to 4-0. Going into the matchup the Warhawks were ranked ninth in the country by the AVCA division three coaches poll.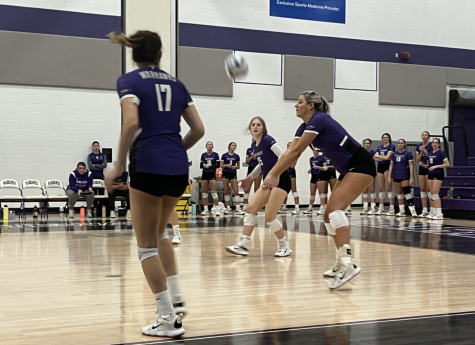 Whitewater came out strong in the first set with a 25-17 victory in the first set to claim an early advantage. The Warhawks totalled 12 kills from 6 different players in the first, as they displayed their impressive spread offense. 
"Every game we have such a balanced offense, balanced defense and everyone knows that no matter who it is touching the ball, we can get that point," Weinfurt said. 
The Warhawks built off their first set momentum and cruised to a 25-14 victory in the second set. Weinfurt led Whitewater in the set with 5 kills on 8 total attacks. 
The Pioneers battled back in the third set and earned a 25-12 victory. Platteville jumped out to an early lead of 11-1 and the Warhawk were unable to recover. Whitewater recorded 6 errors in the set and were unable to stop Platteville's red hot outside hitter Emma Carlson. 
"They served us pretty aggressively, and they went on a bit of a run where we were unable to serve receive," Warhawk head coach Stacy Boudrea said. "They kind of took us out of our offense with that aggressive serving, and we didn't respond with aggressive serving either. It basically came down to the two most basic things in Volleyball, serving and serve receive and we didn't do either very well in that third set."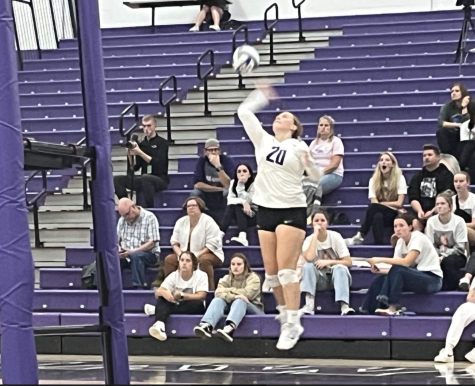 Despite the abrupt halt in momentum, Whitewater was able to shake off the rough set and came out dominant in the fourth. The Warhawks jumped out to an early 10-2 lead and finished off the match with a 25-14 win in the fourth and final set. Weinfurt talked about the team's ability to keep their heads up and bounce back from the disappointing third set. 
"We sat on the bench after that third set and we all knew that we all made mistakes and we beat ourselves up that game and we just can't do that," Weinfurt said. "We were all in agreement, so we said 'what are we gonna do about it' and we came back and responded."
With this win, Whitewater extended their win streak to 11 games and continues to build off a strong surge of momentum that may prove to be extremely valuable in such a competitive conference. 
"They are playing with a lot of confidence, but also focusing on the little things and focusing on each match. They are just taking it one game at a time right now," Boudreau said.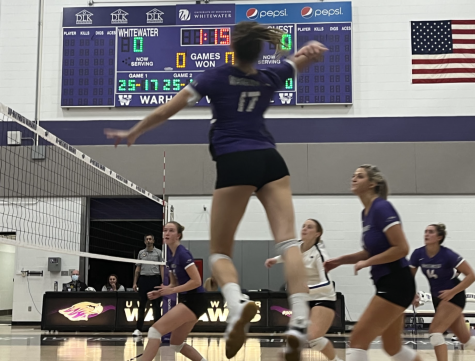 The Warhawks followed up their win against Platteville with three games in New York for the NYU Fall Tournament. They defeated MIT and Swarthmore, but lost to New York University. Whitewater improved their record to 19-3, they will play their next game on the road this week on Wednesday, Oct. 12 against Chicago University.