Football blows way to playoffs
Nick Walczak, Assistant Men's Sports Editor
November 14, 2022
Just over 6,700 fans packed in tight at Perkins Stadium under light snow flurries and freezing temperatures to watch the final regular season game of UW-Whitewater's 2022 football campaign. Whitewater (8-2, 6-1 WIAC) released a flurry of offense against UW-Stevens Point (1-9, 0-7 WIAC) in a frigid senior day, military appreciation, annual Shriners game match up. The dominant performance earned Whitewater their fourth straight and 39th overall WIAC conference championship. Whitewater also received an automatic berth into the NCAA Division III playoffs with the win.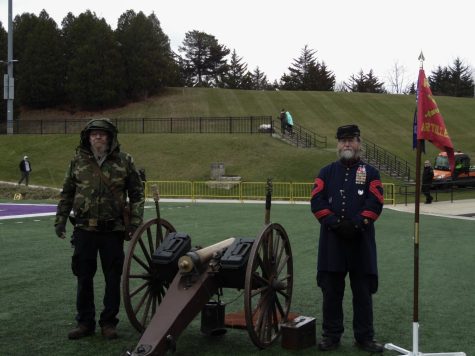 "Winning four in a row is pretty cool for those seniors. It's something to be proud of, especially in this conference because this conference is nuts," said Warhawks head coach Kevin Bullis.
Whitewater and Stevens Point have been facing off since 1895 and Whitewater leads the all-time series 70-31. Including now a seven game win streak against Stevens Point at Perkins Stadium, which matches the longest win streak in the series. Coming into the game, Whitewater was ranked 15th in the country for DIII and Stevens Point was coming off six losses in a row.
Stevens Point started off the game with an impressive drive, which included an athletic 25-yard scamper by junior quarterback, Trey Schroeder. However, the drive stalled out and all Stevens Point could muster was a 30-yard field goal by senior kicker Victor Ponterio. Which turned out to be one of the only bright spots of the game for Stevens Point, as for the next two and half quarters, every one of their drives either ended in a punt or a turnover. 
"We started out slow defensively, but we were able to hold them and just give them a field goal. We weren't very pleased with how we started defensively but after that, our offense came out and really ran the ball extremely proficient and threw the ball proficiently and we were really able to grab that momentum from that point forward," said Bullis.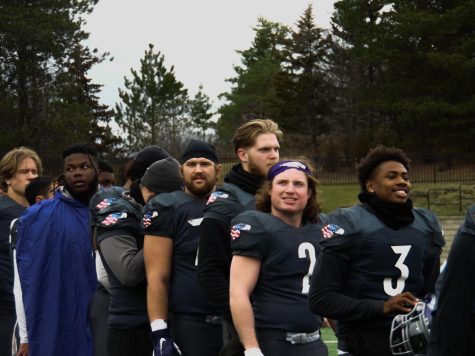 On only their second offensive play of the game, the Warhawks blew competition away with a 66-yard touchdown run by senior running back Jaylon Edmonson, which set the tone for the next three quarters. The Warhawks ran the ball and ran it well finishing with over 500 rushing yards. Edmonson scored three first quarter touchdowns and rushed for his fourth to start the second quarter, which tied the school record. Edmonson ended the game with five rush attempts for 112 yards and four touchdowns. 
"The game plan was to run the ball, which we did. The starters came out in the middle of the second quarter, and really what I take out of this game is that you can't take anything for granted. You have to make everything count and you have to go out and give it your all every single time, especially as a senior," Edmonson said. "You can't get too comfortable with the lead. You have to keep going. This momentum is going to carry into the first round of the playoffs."
The running attack wasn't the only thing working for Whitewater. Senior quarterback and captain, Evan Lewandowski completed five passes in five attempts for 106 yards, including a 51-yard touchdown strike to wide receiver, Tyler Holte. The senior captain, Holte, caught three passes for 84-yards and added the one touchdown.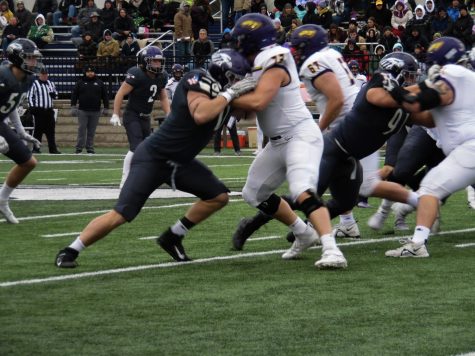 "The offensive line was blocking really well, opening the holes for Jaylon and when we wanted to take the one shot, we got man coverage and it was there," said Holte.
At the end of the first quarter the score was 35-3 and Whitewater did not slow down. Following Edmonson's fourth rushing touchdown at the start of the second quarter, senior defensive lineman Kyle Gallagher strip sacked the quarterback and recovered the ball. Just a few plays later, Whitewater's junior running back Makaio Harn scored the team's fifth rushing touchdown with a 34-yard run. Harn rushed for two touchdowns and 122 yards. After another turnover, the backups entered the game for Whitewater. This was one of the first times this season where Whitewater was able to give their second and third teamers real game reps.
"I am very pleased with how our young kids played. We were able to get our second team in during the second quarter and so when you can do that, it's awesome for the development of all those kids because games reps are the best learning reps," Bullis said. "It was great being able to get a lot of our guys reps today."
Most of the second half, Whitewater controlled the ball and tried to burn as much time off the clock as possible. Stevens Point scored their first touchdown of the game on a 33-yard touchdown pass from Schroeder to senior wide receiver Joe Hare with 3:09 left to play in the third quarter.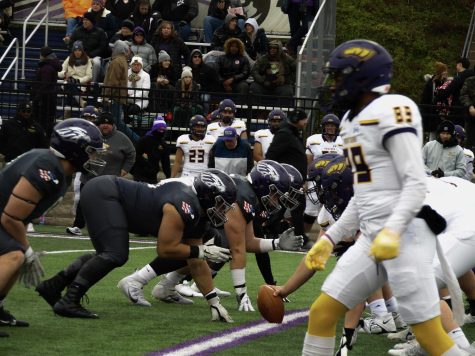 Whitewater senior running back Preston Strasburg scored his second rushing touchdown of the day on a 38-yard run with 48 seconds left in the third quarter. The Warhawks added one final touchdown on a 1-yard run by freshman running back Alijah Maher-Parr with 7:03 left to play in the fourth quarter.
"It's what I said to our players at halftime. We will respect our game, we will respect our opponent, and we will respect our standard of process. Which means, when we score a touchdown, we celebrate as a team, but once that unit hits the bench it is now back to work… The celebration is done. We want them to have fun, heck yeah… But we are ultimately trying to teach our players to be in the moment," said coach Bullis when asked about helping the players find a balance between fun and focus in a blowout game.
Another successful regular season and yet another conference championship in the books for Whitewater. With tremendous leadership and outstanding talent, the team has high hopes for making a deep postseason run. Whitewater will open postseason play Saturday, Nov. 19 at noon.