All-American reaches historic milestone
All-American forward Aleah Grundahl reached the 1000 career points mark, as the women's basketball team kicked off their season with a pair of wins against Carroll and Millikin University in the UW-Whitewater Tip-Off Tournament Friday, Nov. 11, and Saturday, Nov. 12.
The Warhawks squeaked out a win, 56-52, early Friday evening against the Pioneers of Carroll University. Despite a bit of a sloppy start to the season, they put forth a strong defensive performance and hung around long enough to scrape past the stubborn Carroll team.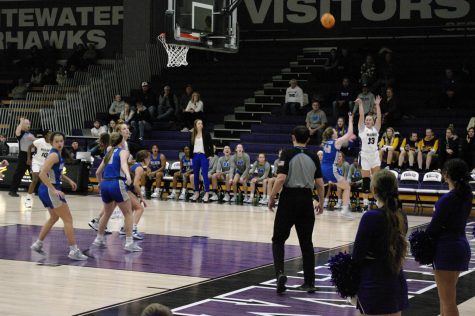 "The biggest take-away from this game is that at no point did they ever give up," Whitewater head coach Keri Carollo said. "I felt as a collective group they stayed the course, which propelled them to get a win against a really good team."
The Whitewater offense was led by leading scorer Abby Belschner who recorded 12 points in the matchup. Kacie Carollo followed closely behind with 11, and Aleah Grundahl fell one point short of a double-double with 11 rebounds and 9 points. 
Despite the win, it was obvious with a couple of new players in the rotation off the bench the team suffered some growing pains. They struggled to hit shots and finished with just a 34.5% field goal percentage. They shot even worse beyond the arc, as they sank just 2 of their 15 attempted 3-point shots for 13.3%.
"I think there were some early season jitters, especially playing at home, coming off such a great season," coach Carollo said. "We are still trying to figure things out, but once we get our rhythm we will be able to fit things together."
Saturday night, Whitewater got off to another slow start and went down 11-1 early against d3hoops.com's fourteenth ranked, Millikin University. The Warhawks turned the ball over on five of their first seven offensive possessions, but eventually started to turn things around.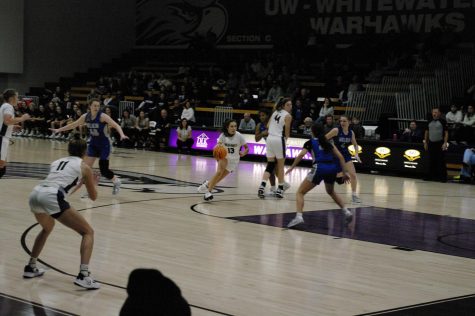 Kacie Carollo got red hot in the first quarter to give the offense a spark. Carollo connected on all three of her attempts from beyond the arc, including a go ahead shot to give the Warhawks their first lead of the game 14-13. She finished the game with 19 points.
Whitewater seemingly got stronger as the game went on and finished on top 79-69. Grundahl led the team in scoring with 25 points, which brought her career total to 1000. She became the 18th player in program history to reach that mark. 
"I would never have gotten to that mark without my teammates and the coaching staff," Grundahl said. "It is definitely an accomplishment, but I can't take all the credit."
Freshman guard Renee Rittmeyer made her debut for Whitewater and proved to be an important factor on the offensive side of the ball. In her 19 minutes she scored 11 points, including a 5-0 scoring run in the second to extend the Warhawk lead to 8 points. 
"She is definitely going to have a huge impact for us," coach Carollo said. "She does so many great things on offense, her defense is coming along, and she certainly knocks down shots when we need her to."
Whitewater redeemed themselves after their poor shooting performance against Carroll by hitting 45.5% on 3-point attempts, and 44.1% from the field.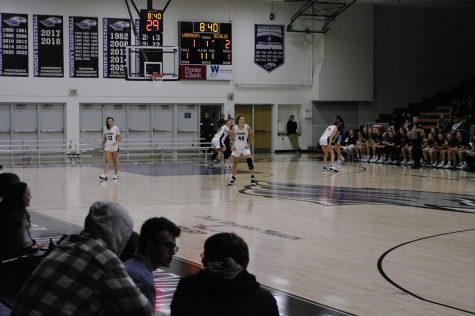 "Today it was really just about us and what our team could do, we focused on what we could do to make our team play better and come out with the win," Grundahl said.
The number 4 ranked Warhawks will look to stay undefeated in their next matchup against Illinois-Wesleyan, Wednesday, Nov 16. at 7 p.m.