Warhawks topple Titans
The Warhawks clawed back from a first quarter deficit at Kachel Gymnasium in Whitewater, Wednesday Nov. 16 to defeat Illinois-Wesleyan 70-61. Kacie Carollo led the Warhawks scoring with 20 points and Lunden Alexander also added a career high 16 points off the bench.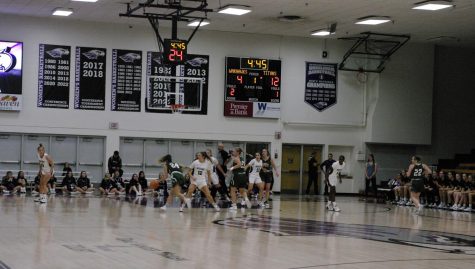 The Titans came out red hot in the first quarter and left Whitewater in their dust as they ran up and down the floor to make plays. Illinois-Wesleyan's starting guard Katelyn Heller put on a fast break clinic as she hit all four of her attempts from the field and recorded 10 points in the first 1o minutes. The Titans held a 21-8 lead at the end of the first quarter.
"We were absolutely expecting them to come out as fast and aggressively as they did," Whitewater head coach Keri Carollo said. "That is how they play and I have been playing against them for about twenty years. Sometimes you just have to get in the flow of the game to see how fast it really is."
 Illinois-Wesleyan continued to dominate early in the second quarter as they tied their largest lead of the game 31-16. The Warhawks held tough despite their slow start and a spark from the bench brought them back within single digits.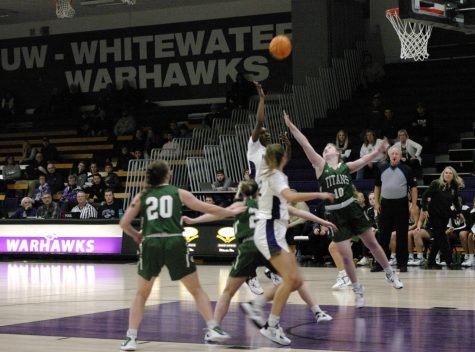 Junior forward Kendall Rocquet came off the bench and scored her first five points of the season, including Whitewater's first make from three in the game. Sophomore Mallory Ollofson also recorded six points off the bench, which sent the Warhawks into the locker room down by just seven, 38-31.
"The balanced shooting attack is huge and it is what makes us go," Kacie Carollo said. "If someone isn't having a great shooting night we know there are other players that can step up. Aleah [Grundahl] is an All-American caliber player, but they brought three defenders in on her every possession so other people had to step up."
Whitewater came out swinging in the second half, and eventually tied the game 46-46 on a layup from Grundahl late in the third quarter. Whitewater took the lead shortly after on a pair of made free throws from Alexander. The junior guard hit several big shots down the stretch and recorded a career high 16 points, 14 of them coming in the second half.
"She hit some really big buckets and she is playing with a lot of confidence which is great," coach Carollo said. "Now we just need to continue that momentum into Saturday, we have needed our guard play to step up and she has been doing that which is great to see."
Kacie Carollo iced the game with less than a minute remaining when she hit a three point dagger to give the Warhawks a 70-61 lead with just under 40 seconds left.
Despite another impressive come from behind win, Whitewater struggled in the first quarter, which has been a theme through their first three games. They gave up nine points on six first quarter turnovers and shot just 16% from the field. The Warhawks were able to bring their overall field goal percentage up to 41.9%, but still only made three of their 18 attempted three point shots.
"It has to do with our confidence," Kacie Carollo said. "We have to come out confident right from the jump. Composure is a big part of it too, we can't be nervous, we just have to get those big shots to fall early so we can get a bit of a lead going and we don't have to come back from a deficit."
Although they have suffered some shooting woes, they remain undefeated and have found plenty of ways to win games. The Warhawks capped their week with a victory in their first road game against Ripon College, Saturday, Nov. 19.
Whitewater will travel to Madison for their next matchup as they prepare to take on Edgewood college, Tuesday Nov. 22 at 7 p.m.