Fencing Club hosts first-ever tournament
Sword Fights have dominated the big screen since film was first invented. We watch pirates and knights compete with weapons that we can't imagine handling. Surprisingly there is a UW-Whitewater organization that allows students to fulfill their combat dreams.
"Most people I encounter don't even realize there's a fencing club. I want people to know that you don't really need an intense athletic background to join. It can help, but we're a beginner-friendly club. I feel like a lot of people see fencing, and think that's something they could never do," said Fencing Club President John Leahey.
Twice a week, Whitewater's Fencing Club meets to improve its members' combat abilities and prepare them for tournaments.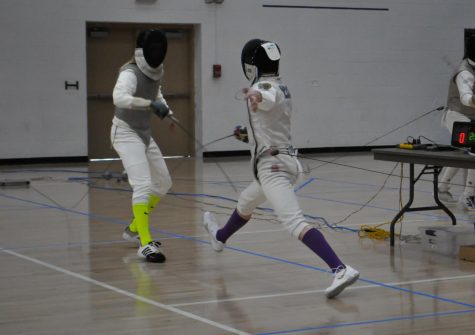 "Primarily we do drills. We work on the basics because we want to get people in a match as quickly as possible. I like to give a little speed run course on fencing to everybody, so they can decide soon if they want to commit or not," said Leahey "We try to make it beginner friendly. We look at what people are excelling at and what they're falling behind on. Then we morph the lesson plan based on that to make a skilled, well-rounded fencer."
As of this year, the UWW Fencing Club had not hosted a United States Fencing Association-sanctioned tournament. After an application to become a USFA collegiate club this past summer, the organization was able to hold its first on Nov. 20. 
"I wanted to hear what they wanted to do a little bit. I did not want to push it on them if they didn't have interest. The first couple years of the merger, I came over here to work with folks to practice," said Brian Duckduckwitz, advisor for both Rock County Saber Rattlers Fencing Club and UW-W Fencing Club. "What happens to a lot of college campuses, happened here- the instructor is someone who took fencing in high school for two years. There's a low number of coaches who are qualified. What really got this tournament going were James and John. The two of them really pushed for it. 
Not only did the USFA collegiate status give Whitewater Fencing access to electronic gear for tournaments, but it also allowed competitors to be ranked in the USFA system.
Of the three fencing weapons – épée, saber, and foil – UWW Fencing was only able to host competition in two at this particular event. 12 participants competed in foil and as well as 5 in saber. 
"I would say bitter-sweet, but it's not sweet at all. It's kinda bitter. It's tough when you have the most popular weapon out of all the weapons and you can no longer do it at your tournament," said Fencing Club Treasurer James Kelley. " My want is to find time between me graduating and getting a job to host a dry tournament. The reason I want to do this for our own club is because we don't have the electrical equipment in order to actually host or go to a proper fencing tournament." 
Tournaments are not the only way UWW Fencing plans on getting more involved members in the community. Fencing camps have been held by the organization for three years. 
"We have a national-level coaching coach over the summer that I started in 2019. I brought in a former Olympic fencer and coach to run it. After COVID, we came back and did it this last summer. This next summer there will be three camps," said Advisor Duckduckwitz.
Fencing Camp will be held June 11th-13th and a USFCA Central Region Fencing Coach Camp is scheduled from June 14-18. Both camps are open to individuals looking to broaden their fencing experience. Moreover, the organization hopes to recruit younger fencers with the Lightsaber Academy from July 30th to August 1st. 
It seems as though the first tournament hosted by the UWW Fencing Club is just the start of a large outreach effort by the organization. With talks of another tournament, several summer camps, and more in-depth practices; there's a lot to look forward to when it comes to Whitewater Fencing.