Wheelchair basketball shows resiliency
The UW-Whitewater wheelchair basketball team is looking promising early into their 2022 campaign. The team has great chemistry and skill and it's also obvious that first year head coach Jake Williams brings immense passion and determination. Warhawks men's wheelchair basketball has won 14 national championships in the program's history and there is no question that Williams intends to get the Warhawks back to the top.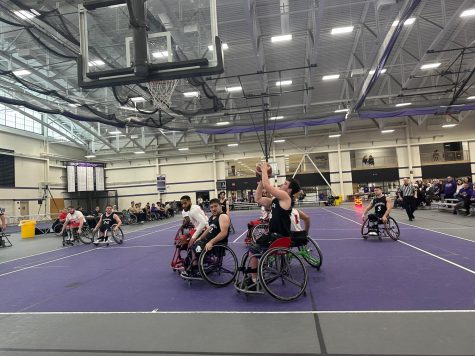 After a shaky start in their first tournament, the men had just over one month before returning home for tournament number two at Whitewater's campus. The team was able to bounce back nicely, competing hard and close in their first two matchups against the University of Illinois and the University of Alabama. The team also added a 47-point victory over Edinboro University on day two of the tournament. 
"I think we are competing a lot better at this tournament than we did in the first one. I thought the first tournament we were kind of going through the motions and not paying enough attention to the little details that successful teams do," said Williams. "This tournament we are showing a lot more fight… Edinboro has a really good program, and their guys were well coached, and they pushed hard. They brought a lot of fight to the table too. We were just the better team."
Whitewater was propelled in their huge victory by the two big-men, junior Thomas Oberst and freshman AJ Fitzpatrick. The two players showed tremendous skill, passing the ball through tight windows and scoring buckets in the paint with ease time and time again.
"All the guys have a role on the team, and everyone is becoming more comfortable in their roles. I will say, for AJ to only be a freshman, he is going to be phenomenal, and we are very thankful to have him on the team," Williams said. "We hope to get better and better with each tournament, and hopefully with no setbacks. Whitewater has a long history of winning and anything short of that is kind of a disappointment here."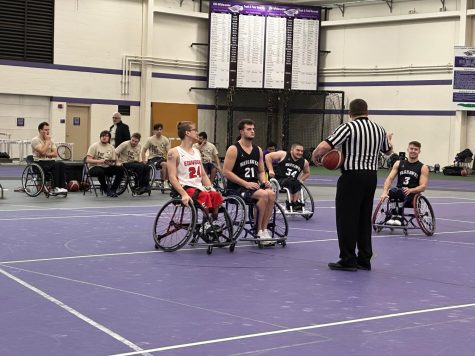 Whitewater's entire 2022 wheelchair basketball team has an incredible amount of talent, tremendous basketball IQ, and they are not afraid to work harder than everyone else to get where they want to go. It is apparent that these men are hungry for victory and are excited for a chance to compete and give their all for a shot to get back to the top and bring another championship back to Whitewater.
Whitewater's next two tournaments are scheduled at the end of January, with the first being at the University of Alabama Jan. 20 and 21 and the second being held at the University of Missouri Jan. 27 and 28. The team then takes a short trip south to the University of Illinois for another tournament on Feb. 10 and 11 before heading out east to Pennsylvania for a tournament at Edinboro University being played Feb. 17 and 18. The team then finishes up the season with the national championship tournament held March 15-18 at the UW-Whitewater campus.