Basketball coach hits historic milestone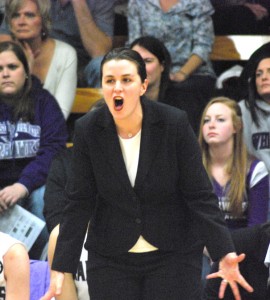 In her 21st year as the Warhawk women's head basketball coach, Keri Carollo achieved her 400th win. Carollo has elevated the program into a yearly NCAA Tournament team and National Championship candidate in her time as head coach. She is the first Whitewater women's basketball coach to achieve that milestone. 
Coach Carollo earned her 400th win in a thrilling single point victory against the University of California Santa Cruz. Her daughter Kacie led both teams in scoring with 21 for the Warhawks. 
"It means a lot, 400 wins is a milestone that not a lot of coaches have the opportunity to reach. I feel very fortunate that I have been able to do that," Carollo said. 
To make an already significant accomplishment even more memorable, Coach Carollo did it with her family right beside her. Her husband Joe joined the program in 2007 and has acted as Carollo's assistant coach for 16 years, and her daughter Kacie is playing in her second season with the Warhawks this year. She also recorded the win in her home state of California with her parents in attendance.
"As a parent it is really hard to put into words how amazing it is to experience this success with my family. After the season we had last year it is really special," Coach Carollo said. "We feel so fortunate that Whitewater supports our family and allows for my husband and I to coach together and also bring our daughter into the mix."
Throughout her time as head coach, one of Carollo's main agendas was to shift the culture in a positive direction. Her goal for Warhawk women's basketball was to instill a sense of pride in the individuals involved and gain respect for the program across the Midwest. In 20 years she has surpassed this goal and turned Warhawk basketball into one of the highest achieving programs in the country, but refuses to take all the credit. 
"I think what people don't realize is that even though it is my accomplishment on paper it takes so many people to make that happen," Coach Carollo said. "I never take full credit because it is everyone around me that has helped me get to this point."
The culture shift seen in the program in the last 20 years during Coach Carollo's tenure has been an impactful one that has led to an onslaught of conference, regional and national accomplishments. Carollo is accredited with seven Conference Championship titles, along with five Conference Coach of the Year Honors, and two WIAC Tournament Championships. She has also led the Warhawks to 13 NCAA Tournament appearances, reached the Final Four four times and earned the National Runner-up title twice including last season. 
Despite a laundry list of Championships, awards and other honors, there is still one elusive goal that Carollo is diligently pursuing.
"The biggest goal we are still fighting for is to win a National Championship, it is something that we are going to continue to work our tails off for. It is something we talk about everyday," Carollo said. "I told the Athletic Director at the time when I took the job 21 years ago that I wouldn't stop working until I won a National Championship."
In addition to the endless grind towards a National Championship, Carollo also has a deep rooted passion for the success of her athletes on and off the court.
"Our big picture goal is to graduate our student-athletes every year. That is a constant for us to make sure they reach their professional goals as well because that is really important to me."
Senior forward Aleah Grundahl and Coach Carollo have both greatly contributed to each other's success. Grundahl was recognized as an All-American and Conference Player of the Year, the same year Carollo won her fifth Conference Coach of the Year award. 
"It truly is amazing, I can't imagine playing for anyone else, she is such a great coach. She has been so successful and put her time, effort, soul and everything into this program," Grundahl said. "I wish I could come up with more words because it really is just something so special." 
Grundahl's sentiment is reflected and shared throughout the whole of the Warhawk women's basketball program, the University and even the community. Lucky for Warhawk basketball fans, Coach Carollo is here to stay and is as hungry as ever. She has begun the hunt towards 500 wins and continues to seek out the program's first ever National Championship, while most importantly leaving a lasting positive impact on the people she encounters.