Warhawks eye one seed
Brian Gale, Assistant Women's Sports Editor
February 5, 2023
The number one seed for the WIAC tournament is still up for grabs with only three games remaining. With four teams still in the running including UW-Oshkosh, UW-Stout, and UW-Eau Claire Whitewater will have a tough end of the season facing UW-Oshkosh and UW-Stout as well as UW-Platteville who upset the Warhawks the last time they played. But before they get through the end of their schedule they have to face a fellow top 25 ranked team in UW-Eau Claire.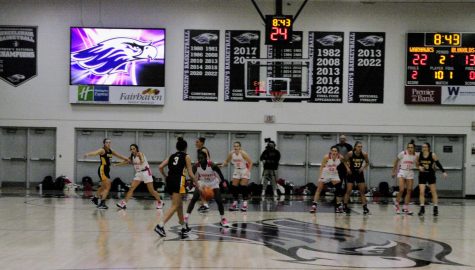 Whitewater would start out the game hot as they would jump out into a quick 10-0 lead. Eau Claire wouldn't go away, getting back into the game and cutting the lead down to three as they still trailed 11-14. Whitewater finished out the first quarter with a couple free throws to make the lead 11-17. Whitewater would start out hot once again in the second quarter going on a run and increasing their lead to 10. But once again Eau Claire refused to go away grabbing offensive rebounds and bringing the lead back within four. But it would be all Whitewater as they would go on another run to head into half with a 40-26 lead. The game was never really close since the second as Whitewater would cruise to an easy third quarter, outscoring them 23-14 as well as outscorfing them 21-12 in the fourth. The game would end with a score of 84-52 with Whitewater never once trailing at any point in the game. Although Whitewater dominated the game they really struggled this game giving up offensive rebounds as they gave 19 but still managed to outscore them on second chance points. 
"You have to box out. It's something we talked about because they are so extremely athletic and really aggressive at the glass. We talked about it at halftime. I thought in the second half we did a much better job but when you are playing against good teams that can really beat you at the offensive glass you have to be much more focused on the little things like putting a body on them. It wasn't a good start defensively but we're resilient so we hung in there and figured it out in the second half." says head coach Keri Carollo.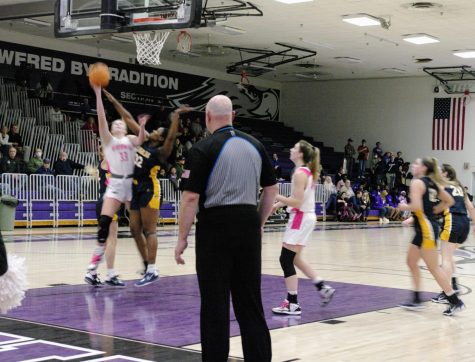 Whitewater had huge games from Kaci Carollo who led the team in points with 22 shooting 54% as well as Aleah Grundahl who dropped 20 while shooting 77%. Yssa Sto. Domingo would also have a huge game going 4 for 4 from three. Everything seemed to fall for Whitewater as a team shooting 45% form the field and shooting 47% from three and 80% from the line.    
With this win Whitewater moves ahead of Eau Claire in the WIAC standings and now look to the next three games against the other top teams in the conference UW-Stout and UW-Oshkosh as well as UW-Platteville who gave Whitewater trouble upsetting them the last time they played.
"It's the consistency of what we do from start to finish. Right now is just about playing with a ton of confidence and not allowing us to question the process of how we do things. Just keeping it really loose and confident is the most important thing we can do." says Carollo
  Whitewaters next game will be in Oshkosh Wednesday at 7 p.m. as they hope to keep the momentum going and end up with that number one seed.