Women's track warrior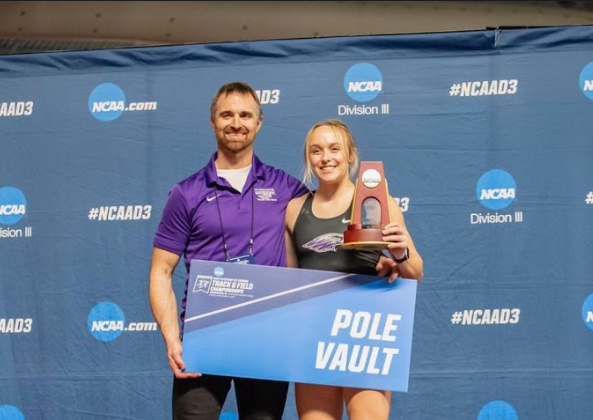 Sophomore pole vaulter Gracie Holland had a strong performance her past two years on the UW-Whitewater women's track and field team. Throughout the past two seasons she's competed in long jump,  javelin throwing, and the 60 meter dash in addition to pole vault. 
Pole vault is where she has excelled as she also took first in the pole vault event at the WIAC Outdoor Championships and finished second in pole vault with a season-best 12-11.50 (3.95 meters) at the NCAA Outdoor Championships in the 2022 season.
"I plan to build off that, I'm excited about my national championship but I do have another season," Holland said. "My goal is to just keep working hard and just go into every meet with a fresh mindset and do what I do best and compete."
She first got involved in track in middle school and continued competing all through her high school career. It was at that point she decided to continue with track and field to college.
"I actually didn't know this until later, but my high school coach went to Whitewater so that was a coincidence," Holland said. "But Coach RJ Soderman, who's actually the jumps coach, filled out a little questionnaire and he recruited me for long jump and pole vault. I came on a visit and I just knew this is where I wanted to go, so I committed here right away."
Holland said that the team atmosphere was also something that made her want to come to Whitewater. But something she didn't quite expect was the level of competition.
"It's a lot more exciting and competitive than I thought it was going to be because everyone always thinks D1 is where it's at or even D2," Holland said. "But if you look at the numbers that D3 is putting up, it's really comparable to D1 which is very exciting to see and nice to be a part of. I also feel like everyone here, no matter what sport, is super nice and super supportive. There's always someone to lean on when I'm at those competitions, which I feel can be unique to D3."
With the intense competition she faced in the past, Holland had to especially lean on that support she said. But there's always a focus on improving in sports, no matter how good of scores an athlete may get. As Holland wraps up the indoor season this year, she's now looking towards the approaching outdoor meets, and maintaining her previous mentalities and habits.
"For the indoor season this year I just wanted to get a little bit faster and a little bit better on my nutrition and eating habits," Holland said. "So I really just focused on lifting and speed training, which was preparing my body and helping me recover better, which definitely helped.  I like to just be confident in myself and my abilities and my practice. I think that's what helps me mentally for sure, and then that shows up in my performance."