Baseball working to find it
Through schedule changes and location switches, the UW-Whitewater Baseball Team has started their season out well but knows the bar needs to be raised. The team opened down in Pensacola, Florida, where they went 7-2, one of their losses was to No. 1 Birmingham-Southern College.
"It was overall an amazing trip. We're hosted by Quint Studer, who's an alum, he's the owner of the Sky Carp down in Beloit, he also owns the Pensacola team," head coach John Vodenlich said. "He treats us like stars and our guys get treated really well, it's really an enjoyable 10 days down there. We went 7-2, we were at the ballpark everyday but one. The guys worked hard and enjoyed it too, it was good stuff."
Games back here in Wisconsin have had to be rescheduled in order to dodge severe and unplayable weather. In the games that they have gotten in, the Warhawks have gotten the job done, including multiple games in which they triggered the mercy rule. However they have not been perfect, they were upset by UW-Oshkosh in their first meeting, and lost the last of the four game series to split 2-2. They finished off the week on Thursday with a 14-4, eighth inning mercy rule victory.
The team has been tasked with finding a strong starting pitching rotation due to the graduation of some of their best pitchers. Cade Berendt has emerged as one of the top pitchers, sporting a 2.45 ERA, he's allowed just 9 runs and has struck out 25 batters. Joey Petit is one of the others who have started on the mound, he holds a 2-1 record with 23 hits allowed in 18 innings. 
The weather has been inconvenient for these pitchers and the rest of the Warhawks, but the way the team approaches it keeps them game ready.
"Weather always impacts people but I think we have the right mindset, we know that's something we can't control," Vodenlich said. "I think our guys understand that it's something that's out of their control and they have to stay focused and stay ready."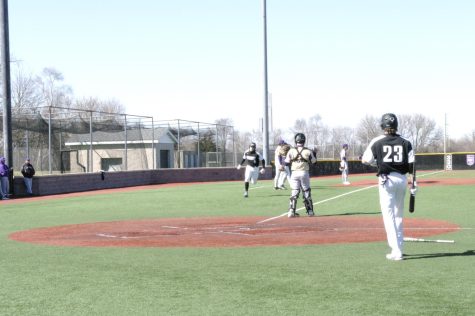 On the diamond the Warhawks are 11-4, 4-2 against WIAC opponents UW-Eau Claire and UW-Oshkosh. As they sit now they are the tenth ranked team in the country according to D3baseball. Despite that, the team knows that they have improvements to make.
"We're not nearly as good as we can be yet. We still have things we're working on but our upside is tremendous," Vodenlich said. "We have a lot of really nice core group of upperclassmen and then we have a very talented group of newbies. I feel good about them, we have to keep moving in the right direction."
One of the Warhawks top batters is a newcomer to the team but an experienced player, St. Norbert College junior transfer Adam Cootway. In 13 games he has batted .425, 17 hits, 14 RBIs and leads the team with a .537 on base percentage. Familiar face Jacob DeMeyer joins him in being impactful from the batter's box with a .404 batting average, 21 hits, 18 RBIs and 10 walks.
Players too are confident in the team and are confident that they can overcome the handful of early season losses.
"We're always solid, we hold pride in that, we have a great group of guys here who can play some ball. We're getting set to really get the season going," senior catcher Ryan Norton said.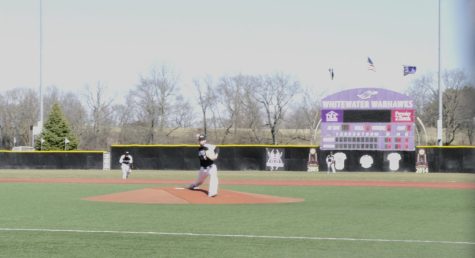 Vodenlich continued on to say that they are "not perfect" and have "a lot of growth" still to make, which he called a good thing. One of the goals for the coaches this season is to have the team hot at the right time, just at the start of the postseason. 
"We're heading towards May and we know everyday we've got a chance to get better," Vodenlich said.
The Warhawks will continue their quest to get hot at the right time when they host Eau Claire to finish off a series that was postponed Monday starting at 1 p.m. Following that, the team will host Ripon College for one game on Tuesday. They will close out the week over the weekend at UW-Stevens Point, the team who was voted to take second place in the WIAC prior to the beginning of the season.