New football coach taking the reins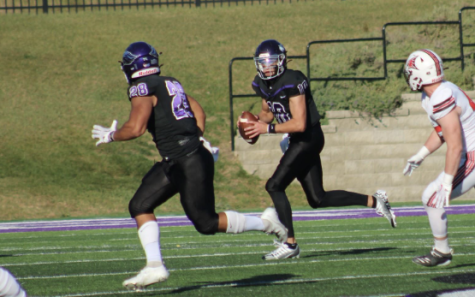 New UW-Whitewater football head coach Jace Rindahl has begun to lead practices for his alma mater. The team recently kicked off spring practices under the new leadership as they prepare for the 2023 schedule, which promises to be one of the most difficult ever seen in Division III.
The team has only had a handful of practices but the first time head coach is starting to settle into his new role. 
"First practice was honestly a little different, trying to figure out what to do. I was better in practice two. I was pretty ornery in practice four, so I think I'm starting to find the niche," Rindahl said. 
For Rindahl, coaching at Whitewater is special. He played there, started coaching there, and was raised just minutes away in Cambridge.
"My parents come to all the games, siblings come to games so family is still a part of it. To be the head coach of your alma mater at a place like this is pretty crazy, pretty awesome as a head coach," he said. "Wow I'm 36, so you put that all into the equation: You've got it good Jace, you've got it good."
With so few practices thus far, it's hard to determine who may be the next big name that will lead the Warhawks on their quest to their 40th conference title. Some already known names are gaining attention, like Tommy Coates and Egon Hein, but others have gotten some attention as well. Rindahl pointed out running back Drake Martin as a fast runner who has stood out. 
As for how the team has responded to the new leadership, things seem to be going smoothly. Despite Rindahl's extensive history on the defensive side of the ball at Whitewater he has already blended well with those beyond that side of things. No matter who he's dealing with, Rindahl has one big thing: do it the right way and be you.
"I think they know me. I've always intently tried to connect with everybody on the team and find a way to start a relationship," he said. "To me there's the right way we're going to do things and there's a wrong way, if you're not going to buy in to doing it right then you ain't going to be a part of this. I think we've got great leadership, we've got core guys who are extremely hungry and want to work to be the best that they can be."
According to Rindahl, part of the team becoming comfortable with the new leadership was getting to have meetings over a five week period before he was even officially named the head coach. He said that those meetings helped set the foundation of the program by talking about leadership and culture.
As head coach, Rindahl's leadership extends to coaches too, not just the players. At age 36 he is awfully young to be the head of the ship, but the rest of the crew isn't exactly that much older than he is. The coaching staff is filled with a fairly young group. So young that Rindahl actually coached at Whitewater while newly named associate head coach, co-defensive coordinator and defensive backs coach Marcus McLin was playing.
McLin, a two time All-American defensive back and three time national champion with the Warhawks, was Rindahl's first hire. McLin has coached in Division II at Minnesota Duluth and at Bemidji State, where he was the defensive coordinator and created a top ten defense in only one year. He will share defensive coordinator duties with Ryan Cortez.
"Stud. Slam dunk hire. The first guy I called, the first guy I thought of. Him and I go back," Rindahl said. "He is a phenomenal teacher, he holds his guys accountable and really sets the bar high for our coaching staff when it comes to being a teacher and a coach."
Though Rindahl is happy with the staff he has, he said there may still be small roles that will be filled by August when the Warhawks begin to put the foot on the gas to prepare for a mammoth of a schedule.
"It's tough, it's challenging but it's what it is. I like to play the best every week, I know our conference does provide that so we basically do do that, but that's the nature of being a competitor," Rindahl said. "You want to find out who you are, how good you are, you can only do that by playing the best competition."
In addition to the regular strong WIAC opponents, the Warhawks will have two road nonconference games. Opening at John Carroll in Ohio and later traveling to Texas for a rematch with Mary Hardin-Baylor who Whitewater upset early in 2022. The first action in Perkins Stadium will be against St. John's (Minnesota) when the Warhawks look for revenge Sept. 9. All three teams finished 2022 in the top 25.
Rindahl and his team know that 2022 was far from perfect, something that motivates the players to make the first year head coach's season memorable.
"You're taking over a program that was 8-3, those guys are hungry, they're motivated. So that makes you feel like you've got something to prove as a program, not necessarily for me but the players," Rindahl said.