Fall weather arrived in Whitewater just in time for the Discover Whitewater Series 5K and half marathon held on Sunday, Sept. 17. The drizzles of rain didn't stop the runners from completing their journey from Whitewater High School, through the City of Whitewater and UW-Whitewater's campus, and back again to the high school. The event is put on by the Greater Whitewater Committee every September to feature the City of Whitewater and raise money for local charities. The event festivities also include a free kid's race held the day before ensuring fun for the whole family. 
"In the past ten years, the Discover Whitewater Series has been able to distribute over $254,500 to local organizations in efforts to build a stronger community," according to the Discover Whitewater Series website. 
This year's organizations include W3 Wellness, Bethel House, Whitewater LEADS, and J-Hawk Aquatic Club.
Many volunteers and local businesses host and sponsor the event, including UW-Whitewater. Jeff Angileri, for UW-Whitewater, spoke on the community the race brings to Whitewater.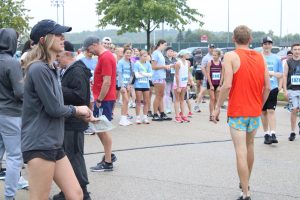 "The Discover Whitewater Series is a great opportunity to show off our beautiful community and campus and to introduce visitors to Warhawk pride. The race route goes through the heart of the UW-Whitewater – over our purple road, past our academic buildings, residence halls and athletic facilities. Many of our students and employees volunteer to help before, during and after the race to make it successful. This event has brought our community together for a decade and we're proud to be a supportive partner." 
Congratulations to all the runners!