At the core of German culture is a fusion of rich traditions and hearty cuisine. With Oktoberfest upon us, it's important to take a step back and remember the traditions that started these celebrations. Whether you take part in the festivities or not, everyone can enjoy the delicious German cuisine, wherever you are. We'll dive into the most popular delicacies, local restaurants, and the Oktoberfest festival.
When it comes to German cuisine, the first thing that comes to mind may be sausages. While Germans have mastered the bratwurst, their schnitzel and sauerkraut are considered national treasures to many. Schnitzel is thinly pounded pieces of meat, usually pork or veal, coated in breadcrumbs and fried to golden perfection. Served with a slice of lemon and a side of creamy mashed potatoes, it's comfort food at its best. While the fermented cabbage, sauerkraut, may be more of an acquired taste, it is a staple of many German dishes. Sauerkraut pairs wonderfully with a variety of meats, as it provides a tangy counter. 
For a country that is big on their meats, it may surprise you to learn that one of the most popular German dishes is completely vegetarian. Dr. Holian, German Program Coordinator at UW-Whitewater, says, "traditional German cuisine is fairly dense and stomach-filling, though in recent years it has become leaner and more healthy in many people's personal diets." Spätzle is a type of pasta consisting only of eggs, flour, salt, and fizzy water. This combination of ingredients makes for a light dough that is easy to work with. Spätzle is traditionally served as a side, but can also be a main dish. It is commonly topped with loads of emmental (swiss) cheese.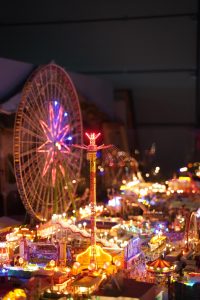 With over 40% of Milwaukee's population being of German ancestry, there are many amazing German restaurants that prepare these dishes. However, under fifteen minutes away from Whitewater is a local restaurant featuring many German favorites. On the Nite Cap Inn menu, you can find Jaeger Schnitzel, Wiener Schnitzel, and Rheinischer Sauerbraten. If you're  looking for some local German food, check out the Nite Cap Inn, in Palmyra. 
To understand the origins of Germany's most celebrated cultural exports, Oktoberfest, the beginning is in 1810. On Oct. 12, 1810,  Crown Prince Ludwig, who later became King Ludwig I of Bavaria, married Princess Therese of Saxony-Hildburghausen. The royal wedding was a massive celebration held in Munich, Bavaria, including horse races, parades, and a public feast. The citizens of Munich were invited to join in the festivities, and the event was so popular that it was decided to repeat it the following year.
The decision to hold a similar celebration the next year laid the foundation for what would become Oktoberfest. Over the years, the festival evolved and expanded, with additional attractions and amusements being added. In 1818, a carousel and other amusements were introduced, marking the beginning of the festival's transformation into a more carnival-like event.
Today, Oktoberfest is not only celebrated in Munich, but also in many other cities around the world.
 "It is important to us in America because so many of us have German heritage in our family background — in celebrating Oktoberfest we essentially are celebrating our own immigrant culture history and the role that so many of our families have played in it over the years," explains Dr. Holian.  It has become a symbol of Bavarian culture, featuring traditional music, dance, food, and, of course, beer. 
From schnitzel to Oktoberfest, you'll find that German culture and cuisine has a lot to offer. Whether you're sipping a stein in Munich or enjoying some local German cuisine, remember the traditions that brought you there. Prost!
To learn more about UW-Whitewater's German offerings, please visit https://www.uww.edu/cls/departments/literature-writing-and-film/german.