Men's Basketball: 'Hawks prevail under pressure
By: Andrew Bayliss
Christmas came late for the Warhawks men's basketball team, as they ended a brutal winter break schedule with two WIAC victories.
On Saturday, Jan. 19, the 'Hawks snuck past UW-Stout, 58-55, to improve to 7-2 in conference play and 14-3 overall.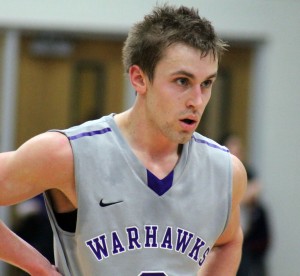 The win over the Blue Devils and a 68-50 victory over UW-Oshkosh capped a nine-game stretch during winter break that ended with five WIAC games in two weeks.
Freshman forward Darnell Harris scored 16 points and led a balanced offensive effort against the Blue Devils in what was a low-scoring, physical game.
The 'Hawks were down by nine entering the second half, and coach Pat Miller said the turnaround was not due to any basketball adjustments, but rather a change in attitude.
When we went into the locker room at halftime, coach told us we were playing like crap," junior guard Eric Bryson said. "He told us this was our season, and if we come out ready to play, we can ride this momentum into the Point game and the rest of the season."
The 'Hawks held the Blue Devils to 34 percent shooting but gave up 17 offensive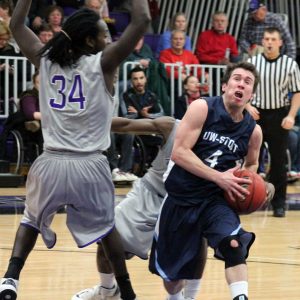 rebounds.
Miller said defensive rebounding has been a weakness for his team this season. That was evident against the Blue Devils. Despite shooting more than 10 percent worse than the 'Hawks, the Blue Devils made the same number of shots as their opponent.
Overall, Miller said he is pleased with the improvement his team has shown up to this point in the season. He said no individual player has stood out, but everyone is doing their part.
"It has been a collective effort," he said. "This team has continued to practice hard and play hard, and they really have improved."
The next big test for the 'Hawks is at UW-Stevens Point on Wednesday, Jan. 23, at 7 p.m. The Pointers beat the 'Hawks, 72-61, on Dec. 12.
Miller said his team has the chance to show improvement in a couple facets against the Pointers.
"In the first meeting, we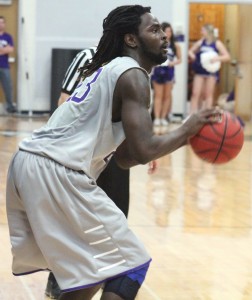 allowed too much dribble penetration and allowed them to create for other people," Miller said. "Second, we didn't execute very well on offense. We had a lot of poor turnovers at inopportune times, so we'll need to correct that as well."
Despite the mistakes, Miller said the 'Hawks might have had a chance to win if they had simply shot the ball better.
"Last year, we relied on Chris [Davis] to make things happen," Miller said. "This year, we don't have a particular player. We have a bunch of guys who can make things happen, but we need to be more consistent."
Miller said offensive consistency would be an important factor in the team's final seven regular season games. Bryson said discipline is where the 'Hawks need to improve the most.
"I just think the biggest key is staying patient," Bryson said. "We are a really young team, and guys are eager to get their shots up, but we just have to stay patient and execute."
The 'Hawks could come within one game of the Pointers, who are 9-0 in the WIAC, with a win on Wednesday.
The Pointers lead the WIAC by two games over second place UW-Whitewater. Even with a victory Wednesday, the 'Hawks would need help from other WIAC teams to defeat the Pointers, as Wednesday will be the last time the two teams meet.
The 'Hawks have six WIAC games remaining on their schedule, as the Pointers have seven. Both teams have four home WIAC contests remaining on their respective schedules.