Treyton's Field of Dreams opens after four years of hard work
Oct. 8, 2014
By Emily Leclair
In 2010, Treyton Kilar was killed in a car accident when the vehicle he was in was hit by a drunken driver. After 4 years of community fundraising, love and dedication, the Grand Opening of Treyton's Field of Dreams at Starin Park took place on Oct. 4 –  what would have been Treyton's eleventh birthday.
Treyton Kilar was a die-hard Milwaukee Brewers fan. He even had the opportunity to meet Prince Fielder. If you ask his parents, they will tell you Treyton was always doing something with baseball. He wanted to play for the Brewers one day. But those dreams were cut short when a drunken driver collided with the car Treyton, his father and his two sisters were driving in. Treyton was buried in his Brewers jersey, and a project was born to remember the young baseball player who loved the game.
The original plan was to build a field similar to those already at Starin Park, but with the money being donated and community involvement the project kept growing. A total of $717,000 was raised to make this dream possible.
"We started to dream a little bit bigger, and the vision became a little bit bigger and you see what happened with the field as a reality," said Mary Kilar, Treyton's mother.
The UW-Whitewater chapter of Pi Kappa Alpha has raised over $5,000 at its annual Pike Spike event.
Boulder Beeman, president of Pi Kappa Alpha said the chapter plans to continue to raise money until all projects at Treyton's Field of Dreams are finished.
Beeman said he felt supporting the Kilar family would bring Pi Kappa Alpha members closer to the Whitewater community.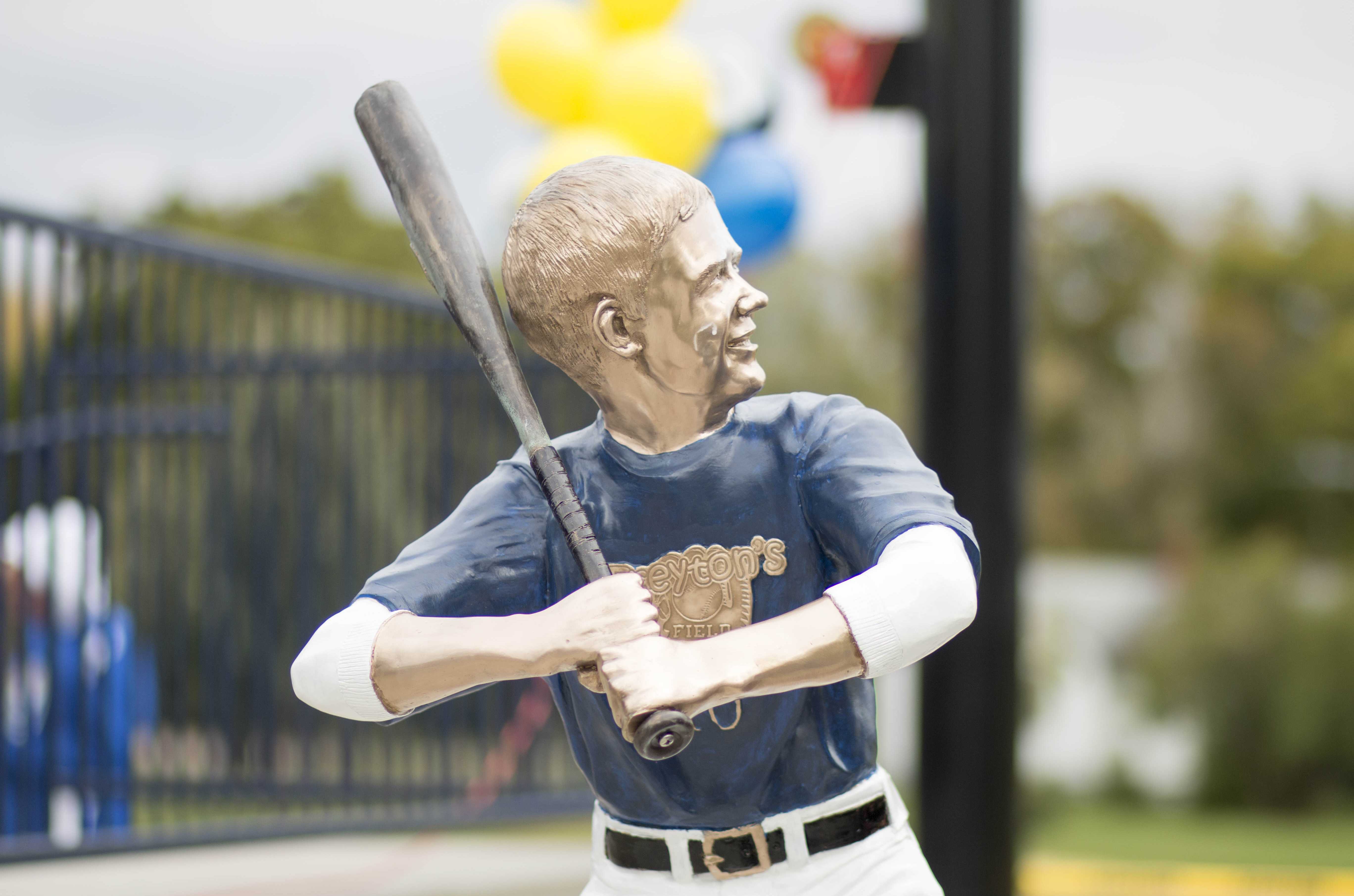 "I had a wonderful time at the opening ceremony," Beeman said of the event. "Taking a moment to look around at all of the families and students that came to support the Kilars made me realize how special our community is."
UW-Whitewater head baseball coach, John Vodenlich, is close friends with Mary Kilar and helped the dream grow as well. The field is a similar layout and design of Prucha Field at James B. Miller Stadium, UW-Whitewater's baseball field.
"Here's a tribute to a young man, and it should be a nice tribute and stand the test of time," Vodenlich said.
At the front of the field stands a statue of a young baseball player crafted by Jerry Sawyer, an artist from Fort Atkinson. At the foot of the statue sits a glove and a pair of cleats. Both are exact replicas of Treyton's that he had with him on the day he went to heaven.
Treyton's classmates played in the game wearing blue and yellow jerseys with the name "Trey" on the back. The Warhawk baseball team worked with his classmates on Wednesday to prepare them for the game to honor Treyton.
In the opening ceremonies, Treyton's family took the field. Mike Kilar, his father, and Mary each gave a speech thanking the community for their generosity and love toward making this memorial to Treyton possible.
"His dreams were cut far too soon and his loss leaves an earthly hole in our hearts," Mary Kilar said. "But his life has touched the hearts of all of us here today."
The ceremonial first pitch was thrown out by Treyton's younger sister Kindyl and was caught by his older sister Brittany. Since Treyton was such a huge Brewers fan, former Brewers players came to throw out the second and third pitch.
Manager of Youth Outreach and former outfielder, Larry Hisle threw out the second pitch of the game, followed by former middle reliever, Tom Tellmann.
The Lincoln Charter School's Choir proceeded to perform the national anthem, and the first baseball game to be played on Treyton's Field of Dreams began.
"It's far beyond my expectations on what it ended up being today," Mike Kilar said.
Community members filled the stadium, all offering a hug or a handshake to the Kilars.
Mary Kilar said the best part of this field was the ongoing donations and community support the family received through the entire project.
"It's aided us in the grieving process because it gave us something to put our hearts into in honor of Treyton," Mary Kilar said. "I think oftentimes when people will go through something so tragic they need those kind of support in place to be able to get themselves through the day-to-day grind of losing someone so dear to them."
The field is open to the Whitewater community free of charge, and the family is considering making it available to be rented out for birthday parties or tournaments. Proceeds will go to Treyton's fund to build restrooms and a concession stand. Treyton's Field of Dreams is working toward reaching $900,000 to afford those accommodations for the players and fans. For more information on donations and events, you can visit treysfield.org.
The day was filled with tears and memories of a young man who loved the game of baseball, but there is more to the field than that.
"It represents a young man who had a love for the game and it represents how important it is to make wise decisions with drinking and driving," Vodenlich said. "It's what the field symbolizes that's so very special."