The advantages and disadvantages of owning pets while attending college.
Jan. 21, 2015
By Vesna Brajkovic
Pets are huge part of the American culture, so much so that a family just doesn't seem complete without a furry friend in tow.
But how does pet ownership translate into the college lifestyle? In a life that is characteristically stressful, hectic and ever changing, is there room for pets?
As most students move off campus as a natural progression from dorm-living, the door for owning pets is opened. Although any animal, besides fish, are against Residence Hall policy at UW-Whitewater, the apartments and rental homes surrounding campus allow ownership of cats, and sometimes dogs, for an additional fee.
For example, DLK Rentals allows one cat at their rental homes for a non-refundable $200 animal occupancy fee.
UW-Whitewater staff members that live on campus have a different pet policy than that of UW-W students. A cat, with the front paws de-clawed, or a dog no more than 45 pounds is permitted after meeting approval by the associate director of Residence Life.
Studies have shown that having a furry friend to come home to benefits the mental health of a person.
"Students who chose to live with at least one dog, one cat or a combination of the two were less likely to report feeling lonely and depressed; something they directly attributed to their beloved pet," according to a study by Ohio State University.
Although having a pet might prove to reduce stress, it's not always practical to make a commitment while living an unstable life.
"Cats do not travel well; they tend to get very stressed. Cats like routine, they like the safety of their home and they don't like change," allfelinehospital.com mentions on their website.
Instead of taking on so much responsibility, students have the option to get their cat-fix by volunteering at local animal shelters. Located behind Reflections of the Past, a consignment shop in downtown Whitewater, 182 W. Main St., Touched By A Paw is the local no-kill cat shelter.
Janna Burhop, owner of Touched By A Paw, is a passionate cat-lover who takes in and cares for the needs of stray and rescued cats and kittens of the area.
The shelter originally started, according to Burhop, because certain irresponsible students would feed cats and then go home, leaving them behind.
"They wanted the cat while they were here, but Mom said 'no' and they would just leave it," she said. "Without those cats being spayed or neutered the kittens are produced. This town – 20 years ago – was so overrun with cats. In all that time, we have made such a difference."
Although this may have been a problem in the past, according to a survey given by the Associated Press in 2010, this isn't always the norm. Of the 1,500 pet owners surveyed who were asked whether or not the reason for giving up a pet in the past had been "moving and it being too difficult to relocate with the pet," 88% answered "no."
But Touched By A Paw still fights to keep any cats left behind, for any reason, off the streets, and has about 30 student volunteers rotating to make it possible.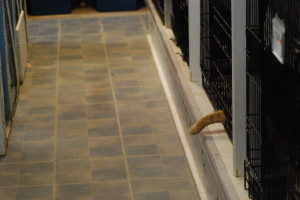 Burhop said the organization is always open to accepting volunteers. There are 14 different shifts each week; two every day – one from 9 to 11 a.m. and another in the evening from 4 to 6 p.m.
"At the end of the term when [student volunteers] graduate we give them a nice letter telling of all the service they gave while volunteering their hours at the shelter," Burhop said. "That letter can goes towards their resume. I have had employers call me as a reference and tell me that they'll hire the person that volunteers here over another person with a good resume because it tells something about their character."
The facility is a non-profit organization completely funded by donations and sponsors, receiving no government funding.
The organization is currently in need of canned cat food.
Because Touched By A Paw is a rescue, the vet bills can rack up quick, sometimes spending $7,000 to $8,000 monthly on strays.
Visit touchedbyapaw.org for more information on how to volunteer or donate.
Touched By A Paw also facilitates adoptions, but doesn't ideally adopt out to people under 24 years old due to the high volume of cats returned by young adopters. There are exceptions made to people who exhibit the qualities of a responsible and stable pet owner, such as those who volunteer at the shelter for a minimum of 40 hours.
Burhop is the sole decision maker when it comes to reviewing adoption applications. She said she wants to make sure the cats go to a stable, loving and responsible home and not end up back at the shelter.
Burhop keeps her connection with the cats that come through her shelter; she even hand-picks their names. After 20 years, Burhop said she tries not to repeat a single name and is constantly getting ideas from name books and last names in telephone books.
As she walked through the aisles of the shelter, she fondly recalled where are all the names came from.
"This is Cadbury because we found him around Easter," Burhop said as the orange and white cat woke up from his 6 p.m. catnap.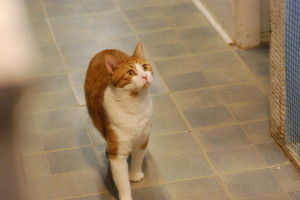 "And this is The Great Gatsby, but we called him The Great Catsby," Burhop laughed.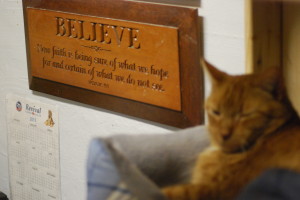 Although the majority of the cats were in their designated crates, each one furnished with a hammock bed and handwritten nametag, there were a few roaming around. Some napping in their various cat towers, one snoozing in a wicker basket, undisturbed by the commotion, others pawing at the laser pointer Burhop always keeps in her pocket, or sitting quietly as a comfortable "wallflower."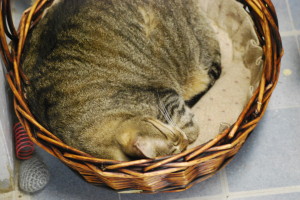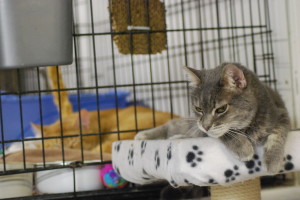 Burhop mentioned all the cats are on 24-hour rotation and don't stay in their crates for very long.
Burhop has adopted her own set of cats through the years, which are all severely handicapped and almost unadoptable. Some of the handicaps include missing limbs, eyes, one with cerebral palsy and one that is deaf.  She also fosters cats in need.
"It's my gift," Burhop remarked on her devotion to rescuing cats. "I've been doing it my whole life."
Burhop rescued her first kitten when she was eight years old and has made it her mission ever since.