Warhawks throw the "W" at Cubs Parade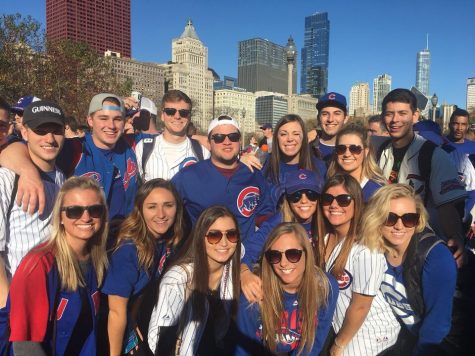 This Friday, Nov. 4, long- awaiting Cub fans came out for a celebration unlike any other in professional sports. These loyal fans helped contribute to the largest gathering in American history, and the seventh largest human gathering of all time.
The Chicago Cubs won game seven of the 2016 World Series against the Cleveland Indians in dramatic fashion, in a way that was only appropriate when the two teams with the longest championship droughts in Major League Baseball squared off.
The city of Chicago estimates 5 million people were in attendance in Grant Park, and the surrounding parade route. Even with the enormous crowds, fans were on their best behavior. Chicago police say minimal arrests occurred and virtually no damage was done to the city or private property.
The Chicago Blackhawks recent string of championships has set a standard for the layout of a celebration in Chicago. A parade route is set that eventually ends up in Grant Park for speeches, and a salute to the fans.
Chicago got to "party like it's 1908," however this celebration was different than those of the recent Stanley Cup celebrations according to fans who had attended both parades.
"It was awesome to be apart of such a historic moment," senior Amber Tenuta said. "I was able to see some of my favorite players with some best friends from Whitewater, I had a blast."
The largest gathering in American history put a large strain on the Chicago Transit Authority (CTA) and Metra.
Although these transportation lines were extremely efficient considering the circumstances, some Cubs fans were frustrated.
"As exciting and exhausting as the day was, the cherry on top was waiting a solid two hours for one of what seemed like five Metra trains that were running," senior Alissa Palmisano said.
After waiting 108 years for their team to win a World Series, Cubs fans, some of the most patient in all of sports, were the perfect candidates to show the CTA and Metra some patience as well.
"Friday is expected to be the busiest day in Metra's history," Metra CEO Don Orseno said in a statement. "We ask all of our regular customers and the new customers we expect to see tomorrow to be patient and, most importantly, be safe."
Students of UW-Whitewater were so enthused about the Cubs winning, responsibilities were thrown out the window.
Some students opted to put academic obligations aside to experience this once in a
lifetime celebration.
"I missed my biostats exam because I wasn't going to miss the most historic World Series win of the century," junior Samantha Pfaff said.
Students of UW-W know how to show their pride as both Warhawks and Cubs fans.
"The parade was a great experience. The atmosphere was incredible. I've never seen so much positive energy in one place before," junior Joseph Fasanella said.