Pickleball Club hosts first tournament of the year
The UW-Whitewater Pickleball Club held their first fundraiser of the semester in the form of a doubles tournament. 28 players from Whitewater and surrounding areas came together to play this upcoming sport. 
"Pickleball is the fastest growing sport in America, and I think it's especially hitting college campuses now too," said Co-President Abby Daniels, a senior at UW-Whitewater.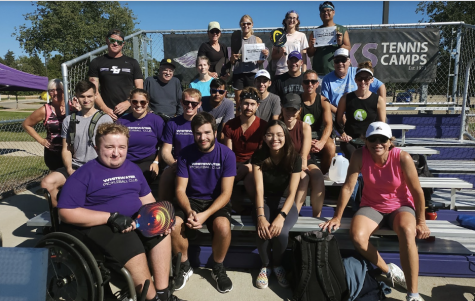 "Abby and I co-founded pickleball club," said the other Co-President, Ben Rasey. "We started this together. We worked in housing together, and we both found out we liked pickleball; and we were like hey, why don't we start a pickleball club. Then we went to Rec Sports, and got it taken care of. Here we are today with 30 people here."
Despite only being around since Spring of 2021, the growth of Whitewater's Pickleball club this semester is apparent. Several new members both volunteered and played at the event on Saturday, Oct. 1.
"Pickleball club has only been around for a total of three semesters. This is only its fourth semester. Our growth is extremely well. First semester we had seven people, and then I think we had about 16 to 20 consistent members last year. This year we're already above where we were last year, and we still have people who are signing up for the club," Rasey stated.
Well over half of the participants were pickleball players from outside of campus. The tournament consisted of 14 doubles teams playing 7 matches until they scored 11 points. However, if the score is tied at 10-10, then the game will continue until a team wins by two points. This tournament was separated into two brackets based on skill.
Sun Prairie resident Adam Lukaszewski placed first with his partner in one of the brackets. He said he got into playing pickleball during the Covid-19 Pandemic. From there he started playing in his gym. This was his first time competing in a Whitewater tournament. 
"We had a really great time. Weather was perfect. Everyone was super nice and fun," Lukaszewski said. 
This past Saturday's tournament was the second one the club has hosted, with them being able to raise approximately $500 for their organization. These funds will be used to finance Whitewater's Pickleball Club's attendance in their first national tournament at Dreamland in Dripping Springs, TX this November.
Through these two tournaments, Whitewater's Pickleball club has found dedicated members from the community. Keith and Kathy Christoff, a married couple from Whitewater, join the team most Friday's at their practices. 
"They were nice enough to let us play with them," Mr. Christoff said. "We were at the last tournament they had here in May."
Many of the participants from Saturday's match agreed they would be back for future events UW-Whitewater Pickleball hosts. Their next scheduled tournament will be Nov. 5th in the Kachel Fieldhouse. 
When speaking about the community pickleball creates, Rasey said "one thing I think that is interesting about pickleball out of any sport on campus, I feel like it's one of the only sports on campus that you can actually bring together campus and community at the same time."