Women's tennis plays tough foes
The UW-Whitewater women's tennis team hosted various Division I, Division II and NAIA opponents in the Warhawk Fall Invite. The tournament was held at the Whitewater Outdoor Tennis Complex Friday, Oct. 7 Saturday, Oct. 8. 
Whitewater was the only Division III team in the tournament. They took on the likes of Northern Illinois University, and UW-Milwaukee from Division I, as well as Lewis University of Division II and Cardinal Stritch along with St. Francis from the NAIA.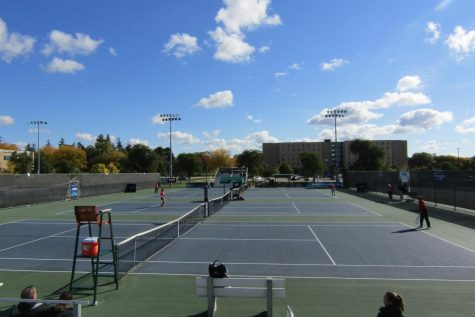 In the No. 2 singles draw and the No. 6 singles draw, Cassie Lee and Sarah Ferguson, respectively, each took second place. Lee rose to the championship at No. 2 defeating Lewis' Sage Hills 6-4, 6-2, before losing in the final to UWM's Anika Tylek 2-6, 6-2, 10-3. Sarah Ferguson went 1-1 on Friday, and later before losing her final match on Saturday to CSU's Ana Alvarez 6-2, 6-1.
Lee and Ferguson were Whitewater's highest finishers. The Warhawks garnered six top three finishes across the ten draws, and took four consolation championships. 
Despite Whitewater not being the victor of this tournament, they are hopeful for conference and believe a great way to get fully ready is by playing in tournaments against teams out of the division which have scholarship athletes.
"It's really a competition playing D-I and other scholarship programs so we knew it would be tough," head coach Frank Barnes said. "The reason we scheduled this tournament so late in the [season] is to help us get ready for conference." 
 "We love playing against these schools because it is a higher-lower competition. We use it a lot to prepare for conference matches," said Finance Major Junior Kellie Ha, who competed in No. 3 singles.
With Whitewater being the only Division III school in this tournament, two of the team captains expressed how beneficial it is to play against these schools. Not only do these tournaments get them ready for conference matches, but they also help strengthen their bond as a team. One of the captains mentioned that looking up and seeing fellow teammates watching and supporting them really brings them a sense of support within each other.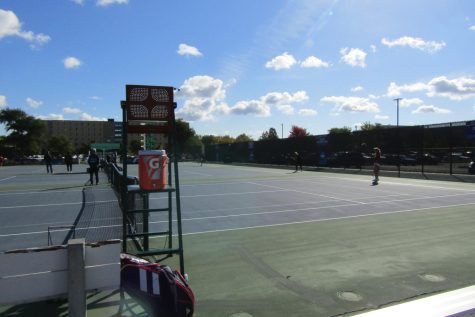 Both the players and the coach had a really positive lense in playing against teams deemed to be higher level than them. 
"I didn't let the fact that we were up against D-I schools get to me. Everyone here is a solid player but so are we. I didn't want to be demoted because of that," Bethany Marshall said.
As the team continues to prepare for the conference tournament they are optimistic and believe that the method they are using to get ready will be beneficial for them as a whole.
The Warhawks have won the WIAC conference title each of the last 14 years, which has secured them automatic bids to the NCAA tournament. They look to continue that streak on Oct. 22 and 23 in Madison, Wisconsin.
They are back in action in Rome, Georgia, from Oct. 13 to Oct. 16 for the ITA Oracle Cup Nationals meet.