Women's soccer wins over Eau Claire
Women's Soccer Game vs Eau Claire
The women's soccer team won their home game against UW-Eau Claire 3-1 on Saturday, Oct. 15. Sophomore defender Allie Prigge had two of those goals from four shots and sophomore defender Margot Yelle had the other goal. With this win, Whitewater has a 3-1 record for WIAC games and remains at the top of the standings. 
In the first portion of the first half Eau Claire maintained possession for a big part of the half but Whitewater kept the ball mainly on Eau Claire's side. At the back end of the half they both fought for possession but in general Whitewater was being more aggressive, winning more battles and put off nine shots to Eau Claire's three.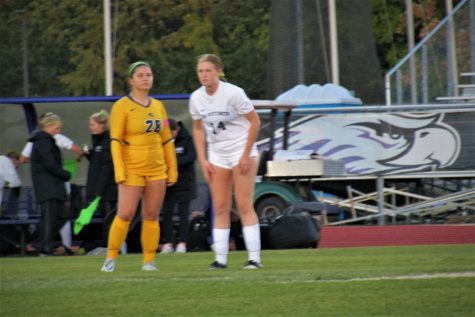 "They play a very possession style game, we know that they're very good. So our plan was to kind of sit in and wait for opportunities where we could find turnovers and then counter attack them out of it," Warhawk head coach Ryan Quamme said, "But once we got to finish the battle, then we kept going out and of course, they lost a little possession because now they had to chase the game a little bit."
That possession was seen with the team having eight on goals and five corner kicks. In general Whitewater just had more control of the half, which was especially seen with the three goals within three minutes towards the end of the half. 
"When we get one goal, it's kind of like the next five minutes we got to be all in. So I knew that to get another goal we would need to do that to solidify the win," Prigge said. "That was the mentality going on right after that first goal."
After those goals, the team had solidified their standing enough and held Eau Claire to no goals to end the half. 
"At halftime we moved deeper with our defensive line because we wanted to try to find a goal, which we hit the post a couple of times in the first 10 minutes and then it was just about managing the game," Quamme said. "We didn't think Eau Claire could find three or four goals in the second half."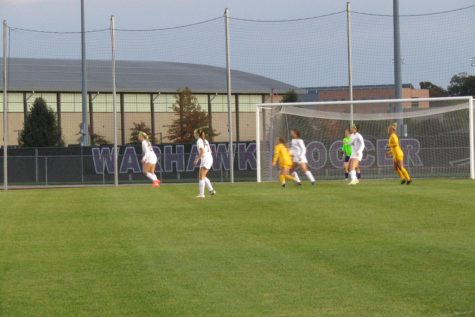 Despite the team's focus and movement, junior forward Sydney Spencer from Eau Claire was able to get a goal and the team had more shots on goal than Whitewater.
"After their goal we adjusted and kept up our defense a bit more," Prigge said. "I think we had more communication in the second half, but talking in the midfield and making sure we're covering the midfield to not let them pass was important."
Possession was back and forth, not favored to either side after that goal, but the adjustments were successful as they kept Eau Claire to that one goal to end the game. The team was able to make the changes they needed, and fixed the mistakes on their own.
"We've played a really hard schedule this year, so we've been in a lot of moments this year where we went up and went down. I think it was an experience throughout the year," Quamme said. "I didn't have to say too much to the girls. I just think they knew how to manage this situation from the previous 14 games." 
The team only has four more games left before the WIAC tournament taking place the first week of Nov. Their next game is on Wednesday, Oct. 19th and also a WIAC game. If the team continues their progress, they have good odds of going all the way.
"Yeah, we lost one point we'd like to have back in today's game. I didn't think it was our best day. But at this point, we just got to focus on Oshkosh Wednesday. We just want to keep winning and have something to play for," Quamme said.