Undergraduate Research Day
The Undergraduate Research program is intended to be a helpful resource for students that want to do research on myriad topic in academic fields, as well as conduct creative projects in their career areas. It also gives some students an opportunity to improve their researching skills by working on their research project with a faculty mentor on campus. 
Undergraduate Research Day 2022 was hosted Tuesday, Oct. 18 in the University Center for hundreds of students, faculty and staff.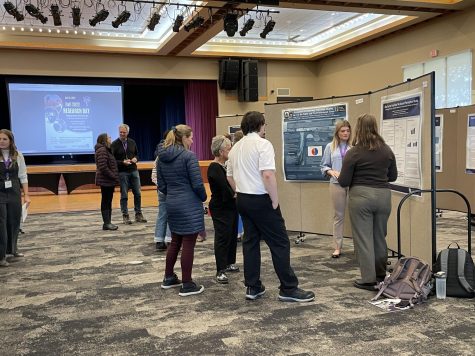 "This part of the event gives opportunities for students and as someone in student research, opens up my mind and gives me the chance to expand my knowledge. It is a great opportunity for undergraduate students under level to help become curious and ask questions and find answers and find tools. I went to school here and this is the one thing that stood out for me. This is the part of the event to find our resources to look into things to help with resources to help them," said research administrator Danielle Story of the Office of Research and Sponsored Programs.
The event had opening remarks from the Interim Chancellor John Chenoweth. Afterwards, the event featured an undergraduate research poster session. Interim Provost Robin Fox had closing words, followed by a quick pitch competition with the undergraduates. The Undergraduate Research Day ended with a research resources fair that would help undergraduates with the variety of resources at hand there.
Undergraduates get the chance to explain how their research is going by pitching it to resources on campus like senior biology major Angel Navarrete.
"Research is important, new information to the research. I'm hoping to get more out of it by talking to people and getting more research into what I'm looking into," said Navarrete. "For me, it is just getting the chance to spearhead this research that I wrote for this event and this is like my baby."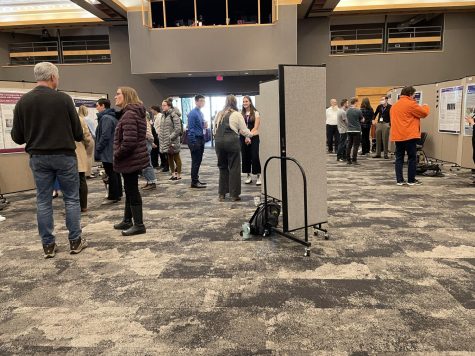 There were numerous networks that were at the research resources fair such as the Center for Technology Communication, Financial Services, Graduate School, Honors Program, Institutional Planning and Research, Office of Research and Sponsored Programs, the Office of Sustainability, University Innovation Center, and more. 
"It's been four or five years since we came back, especially with COVID, and it's nice to see people all around and get that chance to reach out to undergraduates. We try to reach out to outside of the area around Madison and to be a part of the ecosystem of Whitewater," said senior technology consultant Todd Strother of Wisconsin Center for Technology Commercialization.
Students were popping in on the event to check out the many activities happening throughout the day. Some joined the event for a class while others stopped by to gather valuable information that they could have for future use.
For more information on future research events and programs visit https://www.uww.edu/urp.