'The Music of Molly Joyce'
Shawn Long, Assistant Arts & Rec Editor
November 13, 2022
Guest composer and performer Molly Joyce is considered one of the "most versatile, prolific, and intriguing composers" of modern music according to Michael Brodeur from The Washington Post.
On the night of November 11, 2022 around 8pm, she proved this fact before the viewer's very eyes. In this program, she had six songs prepared for the audience. Three of which were performed by students of different sections within the music department, including; Light and Dark by Cristina B. and Tobie W., Imperfection by the Chancellor's String Quartet, and Dew of the Moon by Matthew S.. Joyce's residency was also sponsored by the Center of Students with disabilities, the Office of Equity, Diversity and Inclusion, and the College of Arts and Communications.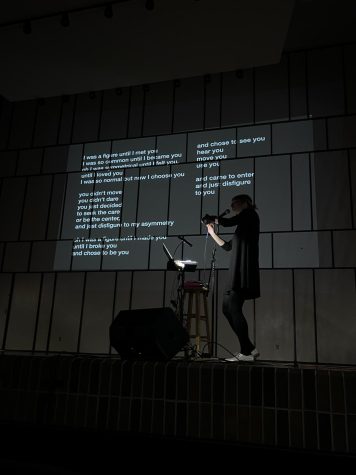 Joyce's music has a motive of using disabilities as a creative outlet. She shared with the audience the backstory of her impaired left hand that was the effect of a car accident that took place about 20 years ago. However, this has not stopped her from making music and performing. She also demonstrated how she's able to do it all, and it is with an electric toy organ glove. It suits her hand just right and engages her disability on several levels. She has made several full-length albums using this instrument as well as her own vocals and electronic sampling. 
Joyce elaborates on the dawn of her career. "I began composing around the age of 16 or so, so most of my earliest influences were a lot of minimalist composers like Steve Reich, Phillip Glass, and John Adams". 
Furthermore, she explains how some days composting music can sometimes be a challenge; "I feel like it can be the easiest or the hardest thing to do at times, some days it kind of flows out of me in a way and other days it seems like solving a puzzle". One subject in the music industry she believes is not talked about enough is accessibility. She believes that strength can branch from vulnerability and also seeing disabilities to be the beginning rather than 'the end'. "Teachers like David Lang and Missy Mazzoli were always open to what students brought into the lesson. They always gave good suggestions on how or what can make a piece better."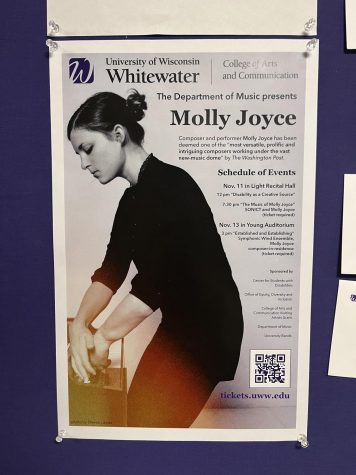 Her definition of success is "feeling challenged yet rewarded with your own doing". She wishes her fans to acknowledge and remember her humorous yet serious frame of mind.
Yesidé Akinbiyi, a junior psychology major, was also in attendance the night of the recital. "The artist put a lot of creative thinking into her artistry. I could tell especially in her piece ẗhe end" that the music was telling a story. Through the crescendos and the decrescendos, the last piece was almost the epitome of a roller coaster being told through musical notes. I thoroughly enjoyed listening to Molly's music. I do have a background in orchestra, having played the piano, and the violin for eight years throughout my academic career, so I was expecting something very different from what I heard that night. But to my surprise, I was not disappointed. If the opportunity to witness her artistry arises again at a later time, I will definitely be in attendance."
In conclusion, this concert was quite notable. Coming titled 'Established and Establishing', the Symphonic Wind Ensemble will be performing two more of her compositions; All or Nothing, and her most recent work, Up and Down. Molly Joyce is holding this recital November 13, 2022 in the Young Auditorium at 3:00pm. For more information on future events held by the College of Arts and Communications, please visit https://www.uww.edu/coac/events.