Women's track & field already on top
The women's track team hosted and won their first indoor meet of the New Year Jan. 22 with a team total score of 167.5. They had a strong first performance with several athletes placing high if not first in their events.
"It was a great start for us," the head track and field coach Michael Johnson, said. "I mean both teams scored well over 200 points so that was pretty exciting. We were just looking to see how we came back off the break. It's always a challenge to stay motivated through the break and compared to last year, we had to start later. In previous years some of the team had about three weeks of practice before our first meet, but this year, everybody had about four days. So it was definitely a different perspective to come into it. But we definitely did some impressive things which really showed the kids dedication over the break. It was an exciting day and we had a lot of good performances."
One particularly good performance was from sophomore Tina Shelton, who with her 7.68 pace in the 60 meter dash broke a previous school record.
"I was super excited at first but I wasn't exactly sure of what the record previously was, but everyone was looking at me," Shelton said. "And we all just got really excited after. And I'm just really thankful that I have a team that gets excited about those things and congratulates everybody and it's really great. It's a good culture and all that support in the team is great. But yeah, that was probably the highlight of the meet for me."
Johnson also commented that he was happy with how everyone performed considering the break, where the athletes didn't have as many resources to keep practicing.
 "We give them a lot of different options over break to practice," Johnson said. "You know, the weather is a challenge. Not everybody has a facility to train in. That's our biggest challenge because we train through the fall and we can't start all over again. When we come back they have to maintain their training at all costs. So we really impress it on them and our seniors do a great job of keeping people motivated. You know, it's a new routine for younger students, but the seniors knew what the expectation was coming back and now it's just getting their bodies back into the routine. And then things will start clicking for us."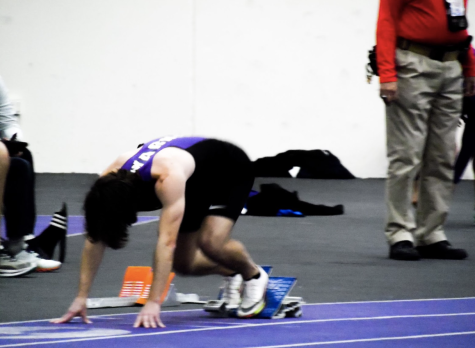 That leadership and the relationship between all the athletes is another thing Shelton believes aided in the strong performance of the team.
"Our biggest thing is knowing that we can't be successful on our own," Shelton said. "The little things especially with track and field, that's what really puts you apart from the competition. Whenever I played sports throughout my life, the ones that were and are successful are the ones that have the best team culture and the ones where everyone gets along and I mean it's never gonna be perfect, but everyone respects each other and respects the hard work that they put in. So I think we're on a good trajectory, but I think if we all really continue focusing on doing the best we can be successful and continue working together then we will keep doing good."
This mentality is what the team hopes to utilize as they take on their next meet on Jan. 28, which is also a home meet.
"Next week, we'll see a lot of our conference schools," Johnson said. "That'll be our first look at some of the conference teams and they'll be doing the same. This meet was one of the private schools, which are not really in our league, but teams that we see on and off. So this is going to be the next chance for us to really see, especially our young kids, what the competition is like in our conference. So we're just going to continue now to try to navigate this first week of getting back in the routine of school. We talked a lot about that in our meeting after the meet, just now we have another routine change here. And we have to kind of get back on the wagon with balancing school and track life and not letting those things interfere. We have to be making sure they all work in harmony so they don't disrupt the progress that we're making in practice and in the meets."