Hoops for Hearing and Hygiene
Delta Zeta and Lambda Chi Alpha partnered for a fundraising event which took place Saturday Feb. 4 to raise money and awareness for hearing and hygiene in under-supported communities. 
Delta Zeta raised funds for Starkey Hearing Foundation, whose mission is, "to educate people on hearing, hearing loss, and hearing aids, as well as provide people with hearing aids." Lambda Chi Alpha, who's philanthropic work focuses on underrepresented health issues, will be contributing funds to purchase hygiene products along with donated hygiene products to local homeless shelters around the Whitewater area.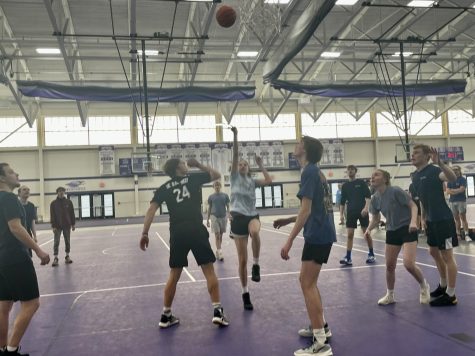 The Hoops for Hearing and Hygiene event featured a multi-bracket 5-on-5 basketball tournament which took place in the Williams Center FieldHouse. Teams paid a 25-dollar entry fee as well as donated hygiene products to secure a place in the tournament. 
The event evolved out of a Hoops for Hearing event started by Delta Zeta. Last year, Lambda Chi Alpha's officer board had made it a primary goal to find ways to encourage partnerships and collaboration within the Greek Life community on the UW-Whitewater Campus. The Hoops for Hearing event put on by Delta Zeta provided both an opportunity for collaboration, as well as aligned with the broader mission of each organization, and thus Hoops for Hearing and Hygiene was born. 
"Combining the resources and energy of the two organizations has practical benefits in organizing such an event," said Vice President of Philanthropy, Muriel Mora of Delta Zeta. However, Mora added, "the collaboration also provided an opportunity for members of both organizations to meet other members of the Greek community." This team effort also encouraged a comradeship which produced a positive feedback loop of energy and engagement. Pointing to this energy, Morma said, "During last year's event, members were showing up day after day putting in long hours, late at night to prepare for the event, fueled by the service of a good cause, but also by the fun atmosphere created by both organizations."
2023 marks the second year the two have teamed up for a collaborative event and the outcome was another success, with nine teams registering for the tournament and dozens of donations to the cause.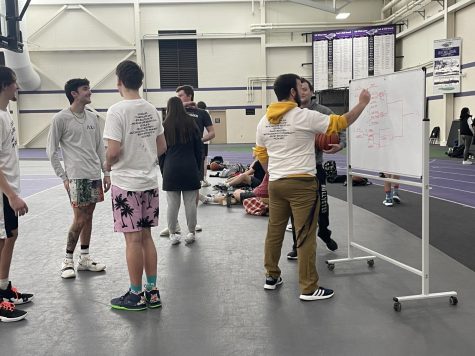 While participating in volunteer service and philanthropic work is of great importance to the community, it also provides important life lessons and opportunities for those who participate.  Chase Zimmerman, who chairs the philanthropic board at Lambda Chi, along with Dylan Freeman, remarked,  "Greek Life generally does a lot of philanthropic work, it's a part of our national requirement as well as our campus requirement, to do community service. But we have a lot of fun doing it, so it doubles as a good time as well as for a good cause." 
Many people see the importance of doing such work, however many are also under the assumption that it's all work and no play, confining the idea and possibilities of service work to a small box. Where in actually, events like Hoops for Hearing and Hygiene, illustrate that with some effort and creativity, it is possible to stack functions. Engaging with the community in the services of others in an effort to raise awareness and financial support for important causes can be a great time as well. When engaging with philanthropic events, members, and in particular new members are provided an opportunity to experience a positive feedback loop which encourages further engagement by being invested not just for yourself or group but developing a connection to your peer community as well as community at large. For many new students finding that peer social community here on campus is important to feeling at home at college. The service that the Greek Life contributes to the community brings together the need for community on a peer level and exposes many to an enriching experience of connection to the community at large; an experience which will have a lasting impression on my young students for the rest of their lives.