DanceScapes '23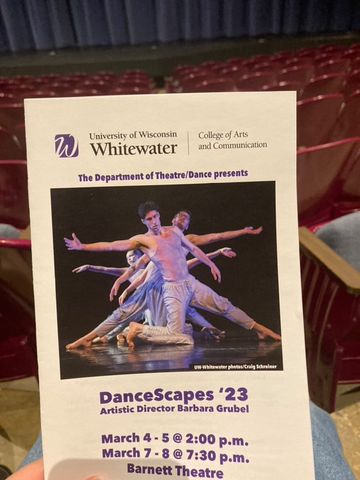 DanceScapes is the annual showcase of talent at UW-W. This year, one of the dances was choreographed by Dr. Jin-Wen Yu, an international choreographer with over one hundred works under his belt. The other dances were choreographed by our own students and staff.
I attended the first showing of DanceScapes '23, and I was surprised with how well students' hard work has paid off. The dances were well performed. They were clean and controlled, showing a lot of skill. The dances told stories, especially the opening number called "Scrap" that kept the audience on the edge of their seats wondering what will happen next. 
My favorite dance was the one that went to the song "C'est Magnifique" from the number Cholly Vignettes | Tribute to Mr. Duckworth: Humblebee Pie. The dance was upbeat and fun with a vintage vibe. The dancer really captured the feeling of the song through her movements and facial expressions. She also lip-synced to the song and I was impressed with how well she matched up her mouth to the lyrics. 
The best costumed dance was glisten. The stage was full of girls dressed in the same flowy dress. It was burgundy with a subtle black print. The skirt was tiered with two layers of ruffled fabric. I enjoyed seeing how the dresses moved with the dancers.
Three of the works were actually selected for the conference at the American College Dance Association (ACDA), with one being selected for the ACDA Informal, and two being selected for the ACDA Adjudication.