Rep. Vruwink, Sen. Ringhand hold listening forum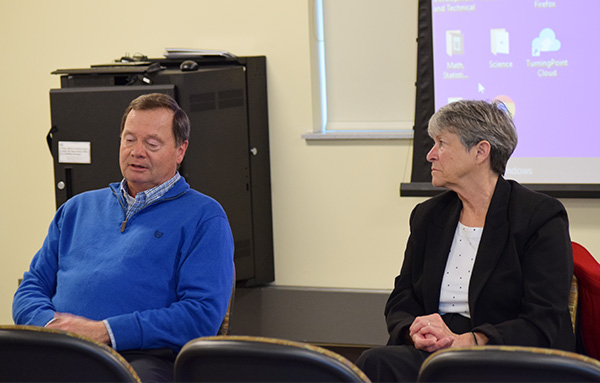 Rep. Don Vruwink (D-Milton) and Sen. Janis Ringhand (D- Evansville) stopped at the University of Wisconsin-Whitewater University Center on Monday for their first of three listening sessions in Whitewater, where students and community members took part in an open discussion about the upcoming budget.
Vruwink and Ringhand gave a few updates on the budget before opening up the discussion.
Gov. Scott Walker's plan has money going back to schools in Wisconsin, but is not as much as has been taken out in past years, Ringhand said.
"A lot of people are happy about that, but we don't really know what we will all get through the final cuts to the budget," Ringhand said.
Vruwink and Ringhand also shared their views on the future of segregated fees, after fielding one student question asking for insights on which way representatives are leaning.
While Ringhand said there is still a lot of time, they do not know which way representatives will sway.
"I think people are in favor of seeing the tuition stay low, students especially and their parents, but I think it's really a split decision out there," Ringhand said. "I would only be speculating to say one way or another."
Segregated fees work hand-in-hand with student organizations, something Vruwink said is a small amount of the big picture of the university.
"At the school board I represent, I'm a big proponent of as many clubs and organizations as possible," Vruwink said. "It gives people chance to find their niche and it might make them into someone they didn't think they would be."
Transportation
Other key points regarding the budget include transportation, which is not being funded.
"That's a big issue for a lot of people," Ringhand said. "Additionally money to fix our roads is just not being allocated."
Ringhand said there is some money coming from the I-39/I-90 project running from the Illinois state-line to Madison, which is scheduled to stay on track.
Despite uncertainty, Vruwink expressed the need to start a sustainable funding program for Wisconsin roads.
A lot of the budget money also goes toward helping social security, health care and BadgerCare.
Ringhand also mentioned Walker's current work on his opioid campaigns to help people struggling with and preventing addiction.
Vruwink and Ringhand will hold additional listening sessions as the budget progresses.