Perry wins indoor weight throw title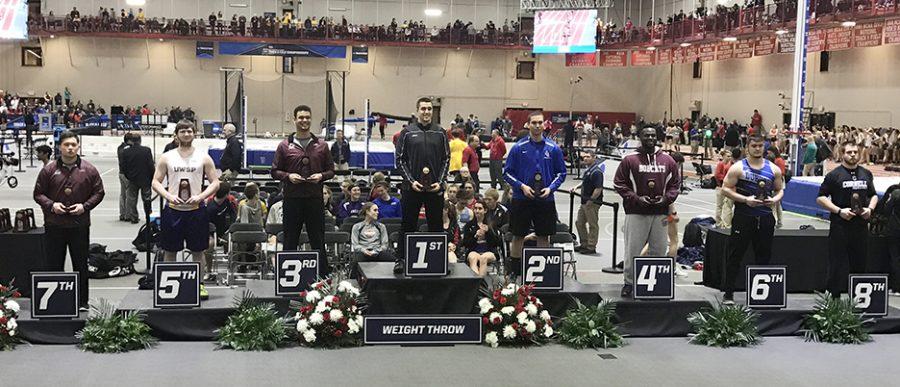 Josh Sinclair, Senior Staff Writer
March 14, 2017
Senior Levi Perry lead the way for the Warhawks  track and field team, becoming a national champion in the weight throw. His career-best mark of 64-06.5 earned him his first individual championship and his second All-American honor.
Perry joins Jeremy Wendt '04 as the second ever UW-Whitewater national champion in the weight throw.
Perry's finish helped the  men's track and field team finish in third place at the 2017 NCAA Indoor Track and Field Championships, which concluded on March 11 at North Central College, in Naperville, Illinois.
With 30 team points, the Warhawks had a podium finish for their second straight NCAA Indoor Championship meet, this season besting 102 other teams on their way to the stand. UW-La Crosse and North Central College tied to win the NCAA meet with 34 team points.
"We were happy with our finish and performances," head coach Michael Johnson said. "But also know we left some points where we shouldn't have."
Others on the scoring end for the Warhawks were junior Parker Witt and junior Theron Baumann. Witt took third in the 60 meter dash in 6.852 seconds. Just 50 minutes later, Witt took third in the 200 meter dash, tying his own school record time of 21.76.
Witt scored 12 points by himself for the Warhawk men's team, which makes him a five-time indoor track All-American.
Baumann finished as the runner-up in the shot put with a throw of 57-08.5 to become a three-time indoor track and field All-American.
Baumann joins Ross Kapp ('06) as the only Warhawk throwers to earn All-American honors
three times.
"The Whitewater Track and Field program is one built on a history of success," senior Meredith Porter said. "Every year we have members of the team earn All-American honors, but with the unpredictability of this sport there's no way to truly forecast the national meet, but the success of our team never surprises me."
Not scoring for the Warhawks, but still finishing strong in the high jump, junior Cameron Magee and senior DuVaun Goodlow each cleared the opening height of 6-03.5. Magee then cleared 6-05.5, but neither were able to clear 6-07.5. Magee finished tied for 10th place and Goodlow tied for 13th.
Five women receive All-American honors
Porter placed sixth in the 400 meter dash in 56.45 to earn her first All-American honor.
Porter then went on to earn her second All-American honor anchoring the seventh place women's 4×400 relay team.
"​Being an All-American is something I have dreamt since I began running in college," Porter said. "It is an incredible feeling, especially being able to share All-American honors with the girls on my 4x400m relay team."
The squad  of Porter, freshman Abbie Felton, junior Tiffany Bianco, and senior Leah Richter ran 3:53.46 and became the second-ever UW-Whitewater women's indoor relay squad to earn All-American honors. It is the first All-American honor for Felton, Emet, and Richter.
Richter also competed in the pole vault where she placed 12th, vaulting to a height of 11-09.75.
Freshman Celeste Madda qualified in both the 60 and 200-meter dash events taking 17th and 10th respectively.
Rounding out the Warhawk women's national qualifiers is senior Amanda Strupp, qualifying in the weight throw. Earning All-American status at last year's indoor championships, Strupp entered this year's championship as the No. 8 seed, but took 12th place with a throw of 55-05.75.
"We need to improve on our post-season finishes at the WIAC and NCAA outdoor championships for outdoor season,"
Johnson said.