Hang on for a minute...we're trying to find some more stories you might like.
The UW-Whitewater softball team won five of six games at home from April 6-9.
UW-W first swept the University of Dubuque (Iowa) in consecutive shutouts April 6. The team then posted consecutive comeback wins over UW-Eau Claire April 8, before winning one of two against No. 7 Coe College (Iowa) the next day.
The Warhawks trampled the Spartans on April 6, 7-0 and 10-0.
In the first game, sophomore centerfielder Caitlin Catino started the scoring for the 'Hawks in the second inning with a three-run homer, Catino's first of the season.
Sophomore right-hander Julia Camardo allowed just two hits in her third win of the season.
Already up 6-0 in the fifth inning, Catino ripped a double into left-center that brought home the last run of the contest.
"She [Catino] just keeps battling," UW-W head coach Brenda Volk said. "She's had struggles along the way here and there as we all have, and she just keeps coming back."
In the second contest, UW-W tallied 10 runs in the third and fourth before eventually going on to win by run rule.
After beginning the third inning up 2-0, freshman third baseman Meg Cohrs blasted a three-run shot to extend UW-W's lead to 5-0. It was Cohrs' first career home run.
The Warhawks would add one more in the third on junior second baseman Michayla Swanson's RBI single.
UW-W would eventually put up four more runs in the fourth inning that led to the sweep.
Freshman righty Bella Matthias improved to 6-3 on the year, allowing just one hit and one walk, while striking out five in just four innings.
The 'Hawks won the first meeting against UW-Eau Claire 4-3, on a walk-off double by freshman relief pitcher Dani Biesiada.
After allowing no runs through three innings, Matthias allowed three runs in the top of the fourth and the Blugolds led 3-0. The Warhawks then tied things up in the bottom of the fifth inning after Cohrs homered off the foul pole in left field.
Volk noted having a never say die attitude is essential to clutch spots.
"As I tell them all the time, we got to keep battling and battling," Volk said. "It's just a matter of never giving up, knowing that someone has to step up."
Cohrs finished the game with two hits and three RBI's.
After pitching two relief innings, Biesiada became the hero for the 'Hawks in the bottom of the seventh inning by ripping a double into right that brought home outfielder Kayla Seymour.
"I was definitely nervous going in," Biesiada said. "But with my team backing me up, every person came through and it was truly a team effort."
With that hit, Biesiada improved to 2-0 on the season.
In the second game, the Warhawks rallied from a 3-0 deficit and yet again won 4-3 on a walk off, this time a solo home run by right fielder Haley Morelli in the bottom of the 10th inning.
UW-W was down 2-0 after the first inning, then UW-EC scored again in the sixth inning on a wild pitch.
Sophomore third baseman/middle infielder Kelly Bergland finally got the Warhawks on the board with an RBI single into left center. Junior left fielder Mallory Klotz then brought home two more to tie the game at three all. Morelli then knocked one out of the park and sealed back-to-back UW-W comeback victories.
Biesiada improved to 3-0 on the season after pitching four and two-thirds scoreless innings.
On Senior Day against Coe College, the Warhawks suffered a 10-5 defeat in the first meeting.
UW-W was down 4-0 after two innings before Morelli knocked her sixth bomb of the year on a grand slam to knot the game at four apiece.
Down 7-4 in the fifth inning, Morelli hit an RBI single to record her fifth, and the 'Hawks fifth, and final run of the game.
"She's been having a great year," Volk said. "Like today, all of her hits were solid, solid hits…She's been hitting solid all year, and I guess I'm not too surprised right now with how she's hitting."
Camardo took the loss and is now 3-2 on the season.
There were just three registered hits in game two, but the Warhawks were able to escape with a 1-0 triumph. The only run scored was on a wild pitch that sent home Klotz.
Matthias allowed just one hit and struck out seven in all seven innings pitched. She now improves to 7-3 on the year.
After the second meeting, Morelli and fellow seniors Amy Ricci, Jessica Kaemerer, and Cara Smoczynski were recognized in a Senior Day ceremony. During their tenure, these Warhawks have won two WIAC titles, three conference tournament titles and have appeared in the NCAA tournament three times.
After all six games, the 'Hawks are now 4-0 in conference with an 18-6 overall record. The team is also tied atop the WIAC with UW-Oshkosh.
UW-W's next home doubleheader will be against UW-Platteville at 2 p.m. on April 12.
About the Writer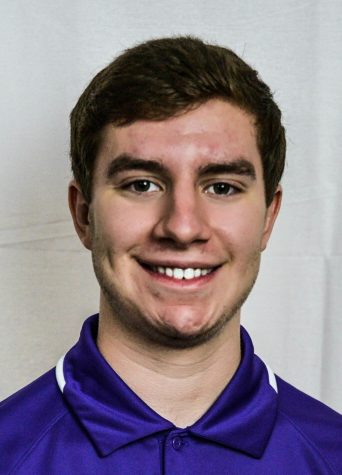 Tyler Job, Sports Editor