MLB Draftee comes back to school
Austin Jones, UW-Whitewater baseball's pitching ace, has had anything but an ordinary career.
After a breakthrough senior year in high school, Jones decided to his take his talents on the diamond to UW-W. Jones' first year for the Warhawks was surreal.
Jones played a significant role in the Warhawks 2014 national championship triumph as a closer. He appeared in 19 games for the Warhawks, had a 2.27 ERA and held opposing batters to a measly .199 batting average.
Jones' second season wasn't nearly as surreal as the first. Two appearances into the season, Jones tore his ulnar collateral ligament (UCL) in his right elbow. He needed Tommy John surgery, a scary prospect for any young pitcher.
Instead of detouring Jones' career, the injury strengthened it.
"Having the mindset that it's kind of a bump in the road, but I can come back even better from it, that pushed me along," Jones said. "It definitely wasn't easy, it was a long 12 months."
UW-Whitewater baseball head coach John Vodenlich said that Jones was diligent about his rehab.
"[Jones] found a good doctor and then from a confidence standpoint slowly started to make progress back to where he is now, which is healthy again and performing at a very high level," Vodenlich said.
A season later in 2016, Jones found himself back on the field, but not spending much time on the mound. Because of the long rehab process, Jones wasn't ready to resume his role solely as a pitcher. So, he transitioned to a position player, and excelled at it.
Jones hit four homers, had 33 RBIs and batted .263 in his stint as an outfielder for the Warhawks. Eventually, he gradually started to resume his role as a pitcher, pitching 12 2/3 innings in the 2016 season.
Even though Jones found success as an everyday position player, he knew where the team needed him the most.
Jones said he wanted to make the biggest impact possible for his team, and for him, that meant retaking his place on top of the hill.
The 2016 season not only marked a successful return for Jones, it was also the year his lifelong dream
was fulfilled.
Even with the limited time on the mound, Jones was selected in the 26th round (794th) in the Major League Baseball (MLB) Draft by the Chicago Cubs. Although Jones grew up as a Milwaukee Brewers fan, he had no complaints about being drafted by the Brewer's arch-rival.
"I get the call, answer my phone, and it's the Cubs guy," Jones said. "He said 'Hey, we're going to draft you.' It's a dream come true, so I could care less if it's the Cubs, the Brewers, anybody that wants to take a chance on me is greatly appreciated."
Jones weighed the pros and cons of signing and decided to return to the Warhawks for another season. Plus, he knew that a season-long showcase with a fully healthy arm could pay dividends for him.
As of 32 games into the 2017 season, Jones has 60 innings under his belt with 61 strikeouts. He has tied his freshman season win mark with six (6-2) victories, and has an ERA of 2.10.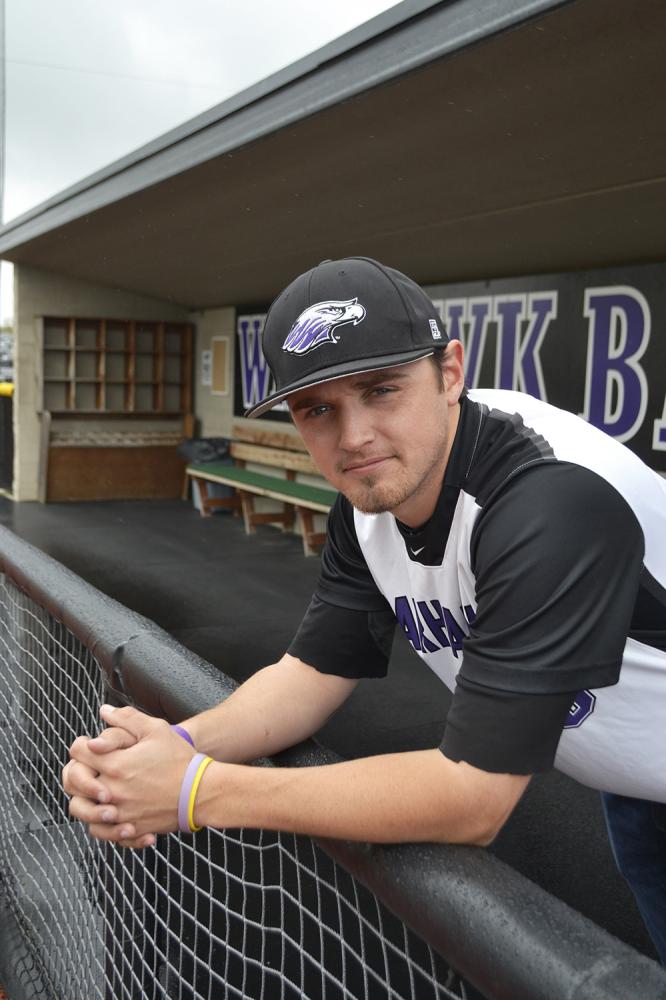 Jones isn't the only one enjoying success in 2017 for the Warhawks. The team has a 26-6 overall record.
With the success of the team and the improvement in play for himself, Jones said his decision to return to the Warhawks has been validated.
Getting re-drafted is certainly in play for Jones. He doesn't know when and where, but he doesn't care just as long as he gets a chance. Just getting drafted isn't the end goal for Jones though. He knows, and his coach knows, he has the potential to make it to the big leagues.
"I view Austin as an individual that has enough talent, upside, drive and dedication, that one day, he'll be on the mound in a major-league game," Vodenlich said.
Among the many intangibles Jones possess that have helped lead to his successful baseball career, he specifically cited his competitive nature. Although he described himself as laid back off the field, on the field is a different story.
"When I'm on the field, I'm tunneled vision and locked in," Jones said. "I definitely have a little fiery edge to me."
Vodenlich also cited Jones' other intangibles that has contributed to his success such as his devotion, intelligence and coachability.
A likely chance to get re-drafted isn't the only prospect Jones has to look forward to, he also has his sights set on a second national championship.
Jones said another championship would be the pinnacle of his baseball career. Although he noted getting drafted was "awesome individually," a team accomplishment may even mean more.
"Now that I'm the older guy, and I've been with my best friends for four years, if we could go out on top, that would be right up there with the draft," Jones said.
Jones' success has earned him the title of Royal Purple male athlete of the year. Other honorable mentions include Levi Perry, the weight throw national champion, and Jordan Newman, the 184-pound national champion wrestler.
The accomplishments and triumphs Jones has achieved in his baseball career are dreamlike for most players, but Jones said he won't stop until he reaches his ultimate goal of reaching the
major leagues.