5K fundraiser to aid local charities in fifth year
The Discover Whitewater Series charity event included a 5k and half marathon with the option of relay, in the fifth year of the run.  
The event took place Sunday, Sept. 9 supported by over 400 volunteers. Funds were raised for community organizations including Working for Whitewater's Wellness (W3), Bethel House, UW Whitewater Athletics and others.
The event raised over 104,000 dollars in the past four years with 27,000 dollars last year alone.
"We see the impact in the people that come to participate, we see especially the effect on the charities," announcer Dick Haven said.
The races put a strong emphasis on physical well-being for Whitewater residents but also promote a strong community bond.
"The concept behind Run Whitewater was to become a major community event that showcased what's best about Whitewater, to market Whitewater beyond it's borders and bring people together for a pure athletic event," Jeff Knight, community organizer said.
Both races started on Walworth Street near Whitewater High School. The half marathon began at 8:00 am while the 5k started shortly after at 8:15.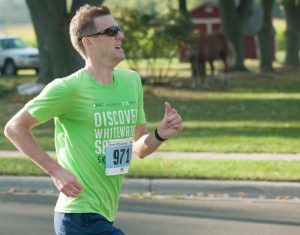 All racers were connected to a chip which clocked their time when they finished inside the Whitewater High School track and football field.
Winner of the 5k Jason Weidenhoeft a 2004 graduate of the University of Wisconsin-Whitewater.
"This event makes a huge impact, I live in Chicago. I see people from Chicago coming for this race. I'm from Whitewater, my family lives here, and my wife is running the race with a stroller so it's a family event." Weidenhoeft said.
Weidenhoeft began running races as a goal to improve his overall health.
"When I turned 35 I decided to get back in shape, so I spent the last three years training. This is my third year doing it. The first two I did, I took 4th place in both races," Weidenhoeft said.
In line with Whitewater's commitment to accessibility for people with disabilities, the 5k and half marathon each had a wheelchair division which started 5 minutes before their races. Jeremy Houtakker represents MyTeamTriumph for the Wisconsin chapter, a national organization which assists handicapped athletes complete athletic events. He ran with a disabled racer in a wheelchair for the half marathon.
"My motivation is seeing the relationships built and seeing claps, smiles and cheers as we cross the finish line. It's helping people do something they normally wouldn't be able to do,"  Houtakker said.
Although this is his first time running the Discover Whitewater Series, Houtakker hopes to continue the relationship with the event to promote inclusion within the communtiy.
"We try build relationships and a community of inclusion for people with disabilities and participate in endurance events. It's hopefully something we can build a great relationship with and hopefully bring out more teams on a year to year basis." Houtakker said.
The Discover Whitewater Series also included a Fit Kids Shuffle which was a 1 mile race for ages ten years or younger on the lowland grass around Whitewater High School. Dennis Knight also finds a personal connection to the competition "What's really neat for me too is that all my grandkids run, it really is a family event for me as well," mentions Knight
After finishing the race each participant of the 5k, half marathon and shuffle receives a finisher's medal for crossing the finish line with the event's logo engraved. Along with the finishers medal, awards were presented to the top three racers for each age category for the 5k and half marathon. Also prize purses and awards were given to the overall 1st, 2nd and 3rd place finishers for the half marathon.
The event set up by The Greater Whitewater Committee and Discover Whitewater Series Planning Committee was an effort to increase community involvement and overall. The continued success of these events spearheads the growing support for local activities and increased involvement within Whitewater. Shows of activism like this seek to strengthen the bond people form with this city.