The heartbreak of American DREAMers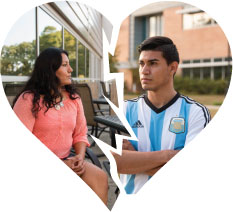 *Editor's note: Some of the names in this story have been altered to grant anonymity for individuals who are concerned of their safety.
Stacy Mares* fears her husband could be deported. If he is taken away, their family would face major financial struggles.
"You're going to take away the best of the best because he wasn't born here," said Mares, a UW-Whitewater student whose husband is a DREAMer supporting their family.
Members of the DREAM Scholars and Colleagues (DSC), a student organization at the University of Wisconsin-Whitewater, have see their futures jeopardized regarding the fate of the Deferred Action for Childhood Arrivals (DACA), which currently grants amnesty to more than 800,000 undocumented citizens.
The term DREAMer refers to DACA-eligible individuals who were brought into the U.S. illegally as children.
On Sept. 5, The Trump Administration ordered an end to DACA, an executive order signed by former President Barack Obama in 2012. Trump said he would give Congress six months to formulate a replacement policy.
DSC President Merari Morales said undocumented citizens protected from deportation were able to come out of the shadows when DACA was ordered. But with the policy slated to end in March 2018, she said more than 800,000 young adults who qualify for the program will become eligible for deportation.
Freshman Nayeli Govantes-Alcantar, who qualifies as a DREAMer, said she immigrated to the U.S. from Mexico when she was two years old.
"I don't remember a single thing from my original country," Govantes-Alcantar said. "I grew up in Wisconsin, and that is what I call home."
As a binational student, she said she grew up observing other American students; some of whom were dedicated students, others whom seemed to not care about their studies or future.
Govantes-Alcantar is not eligible for FAFSA loans, but she said she "worked day and night in high school" to become eligible for scholarships through UW-Whitewater.
"Even as a top percentage (student) of my class, I was not eligible for some scholarships because of the simple fact that I was born in a certain place," Govantes-Alcantar said.
She applied to every single scholarship that did not require U.S. citizenship.
Govantes-Alcantar isn't the only DREAMer who struggles to acquire financial aid to assist with tuition costs.
Morales said she accumulated a 2.1 grade point average in high school, while her best friend, who is a DREAMer, earned a 4.0 GPA. Morales was offered multiple financial grants for college because she was an American citizen; her friend received none.
Many DREAMers don't realize they are not U.S. citizens until they go to get their driver's license, DSC adviser Dr. Anne Stinson said.
People grow up with the American Dream only to later hear that they can't have it, Morales said.
"Everyone deserves the life they were brought up to have," said sophomore Maricela Castillo, who identifies as an ally of DREAMers. "That shouldn't be taken away from them."
Some DREAMers are graduates, students or professionals in the working world. They are the "best of the best" as students, Castillo said, "because they have to be; but people don't want to acknowledge that."
DREAMers facing potential deportation may be negatively impacted both economically and academically, DSC member Berenice Beltran-Maldonado said.
Chancellor Beverly Kopper released a statement Sept. 6 addressing students' concerns about DACA.
"DACA will be phased out after a six-month delay to give Congress a chance to address the program legislatively," Kopper said. "DACA has provided positive benefits and opportunities for many amazing students at UW-Whitewater to pursue their higher education goals, and we will continue to support them."
Oscar Perez said he is one of 800,000 DREAMers who has thus far been granted temporary protection through DACA.
Rescinding DACA programs won't bring jobs back, Perez said, because Dreamers contribute to society in several ways.
"Taking DACA away removes sales tax at a grocery store, it means lost tuition at a university, and that's another lost member at a credit union," Perez said.
DSC member Marie Perez* said immigrant parents take risks to come to the U.S. out of hope for a better life for their children. These people are often pushed out of their home countries by poverty or violence.
Not everyone is so lucky to escape those situations, and the process of gaining U.S. citizenship can take up to 20 years.
DREAMers didn't choose to be born in another country, DSC member Camille Suzanne* said, adding that DREAMers can be from anywhere in the world.
Morales said children are not at fault for their parents' decisions.
"I wish my parents didn't do half the things they did," Morales said. "I wish they were born rich."
DACA is an issue not limited to one racial or ethnic group, senior Cassandra Theno said.
"Scottish DREAMers don't get the same discrimination that Hispanic DREAMers do, and that destroys the world we could build," Theno said. "Many who assume based on color are uneducated."
Under the current presidential administration, racism and categorization of people have been big issues, Suzanne said.
"Everyone assumes 'Mexican,' but the situation is not limited to Mexicans or Hispanics," Suzanne said.
Morales said she has visited classes as a guest speaker on the topic of DACA, and students present didn't know there was a dreamer sitting right beside them.
"Those who don't defend the cause are thinking of politics," Morales said. "People forget that those being affected by the issue are people too. People often focus on the money aspect."
The United States has removed citizenship from people for hundreds of years,  Jenna Cushing-Leubner, assistant professor of curriculum and instruction, said, noting that if people don't pay attention to history, then it's bound to recur.
Full amnesty was available to undocumented immigrants for a brief period of time in the 1980's, Cushing-Leubner said. Millions of people rushed to become legal citizens, but after that, the window was closed.