Softball drops first WIAC game of season
Warhawks go 3-1 in WIAC games, split with UW-River Falls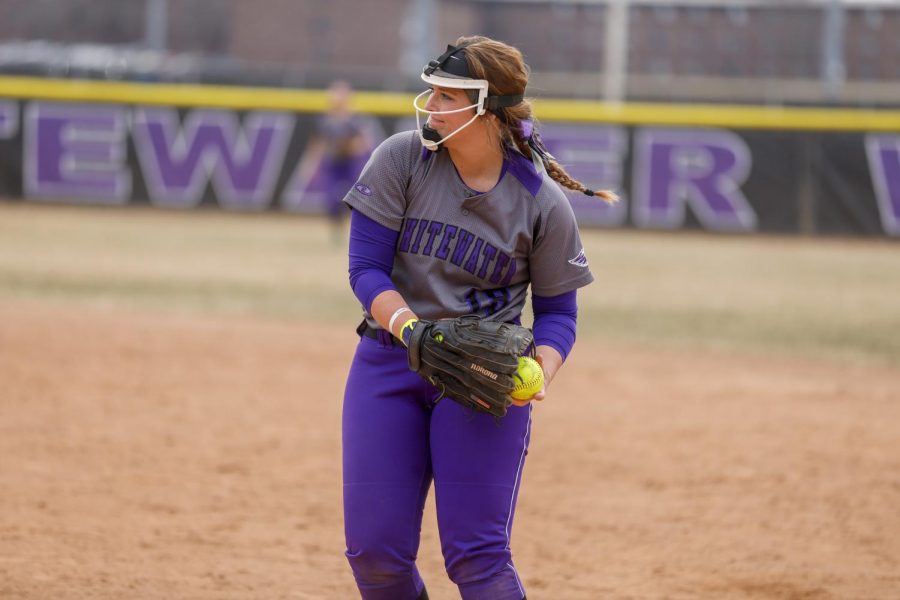 Tyler Job, Sports Reporter
April 23, 2018
The UW-Whitewater softball team continued to roll past its competition this past week, going 3-1 against WIAC foes UW-Platteville and UW-River Falls.
All four games were contested on the road, even though the Warhawks' games against UW-RF were technically at home. That doubleheader was moved to Platteville because of poor field conditions at van Steenderen Complex resulting from the many inches of snow Whitewater received.
UW-W's offense was not as explosive in this most recent stretch, but good pitching helped seal the deal against the Pioneers.
"I think having great pitching makes a huge differences and I feel very fortunate to have such a deep staff like we do," UW-W head coach Brenda Volk said. "Our pitchers have been throwing very well but if one isn't quite on that day, it's so nice to know that we can turn to someone else to get the job done."
Both wins against UW-P were one-run margins thanks to UW-W's deep pitching staff.
Junior right-hander Julia Camardo pitched a seven-hit shutout en route to earning her seventh victory of the season. She also had two of the team's six hits.
The Warhawks scored the lone run in the sixth inning due to a passed ball that scored freshman right fielder Vera Pflugrandt. She also collected a single.
UW-W showed they had the better offense and pitching in the second meeting, winning 4-3 in thrilling fashion.
The Warhawks were down 3-1 in the top of the seventh inning before storming back and scoring the final three runs.
It started with a two-RBI double to right center from junior first baseman and pinch hitter Molly Ethington, which was her only hit of the game.
Junior shortstop Kelly Bergland then proceeded to score on an error from UW-P shortstop Alicia Stout.
Freshman right-hander Makena Creekmore earned the save and win, and the Warhawks almost suddenly swept the Pioneers.
"We always tell the team that it is never over until that last final out," Volk said. "Even though it is nerve-wracking and exciting to win in this fashion, it just shows why they should never give up…That game was truly a team effort as we used almost our entire team in that game."
The Warhawks lost a heartbreaker in the first game against UW-River Falls that saw the team lose an early 4-0 lead and ultimately falling 5-4.
Senior left fielder Mallory Klotz got the scoring going in the first inning with an RBI groundout.
Sophomore third baseman Meg Cohrs singled to right field in the second inning scoring junior center fielder Caitlin Catino.
Pflugrandt then proceeded with a two-RBI single through the right side scoring UW-W's final runs of the contest.
Falcons outfielder Molly Kaspar and utility player Maddie Studinka tallied all of UW-RF's RBIs in the third and fifth innings with the exception of a throwing error by the Warhawks in the third.
Kaspar clocked two doubles scoring two while Studinka hit two singles scoring the other two.
Camardo took the loss while Studinka earned the save.
"Out of all of our losses this year, this was probably the most frustrating and the team knows we should have won that game but this is the game of softball," Volk said. "I told the team that the worse thing they could do is pout and be all mad. A loss is not the worst thing in the world as long as you learn from things that happened."
The Warhawks responded in a big way in the second game, scoring 10 runs while allowing just two.
UW-W put up six runs in the first two innings, including RBI singles from Klotz and Pflugrandt.
Following an RBI single from Ethington in the fourth, the Warhawks put up their final three runs in the sixth with RBIs coming from sophomore catcher Nicole Neitzel and Catino. Neitzel hit a sacrifice fly to left while Catino tripled to right and also scored on a passed ball.
Sophomore right-hander Bella Matthias improves to 6-4 on the season, allowing just two runs on six hits.
"Our pitching and defense have been pretty strong but we just need a little more consistency in our hitting," Volk said when asked on what UW-W has to improve on. "We have had many games this year that we have won in five innings, meaning we have hit very well and then the majority of our losses it seems we have been one hit away from winning…I feel confident that this team is going to put it all together at the right time."
The Warhawks have about a week left of regular season play before the WIAC tournament begins in the first week of May. Remaining conference foes will be at UW-Eau Claire and UW-La Crosse this weekend.