A 'Warhawk Welcome'
First Year Experience alters this year's Freshman orientation events
Warhawk Drive turned purple once again as more than 1,500 new faces were added to campus.
New Warhawks were welcomed to the University of Wisconsin-Whitewater family Sept. 4 as the university celebrates its 150th year in higher education. The tenth annual orientation program, Club-U-Dub-Dub, was changed to keep up with the needs of the campus.
"We've updated the names of our orientation programs," assistant director of the first year experience office Marie Hornickel said. "Hopefully, students and guests know what to expect by the name Warhawks SOAR (Student Orientation, Advising and Registration), formerly known as Plan-It-Purple. Additionally, the new title of Warhawk Welcome, formerly Club U-Dub-Dub and TRANSFERmation, reflects our goal of helping students feel welcome in the campus community as a new Warhawk."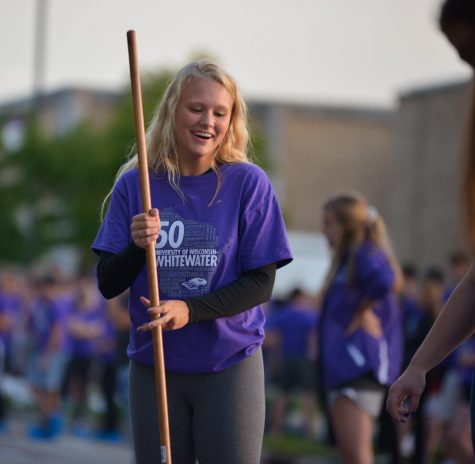 With classes starting on Tuesday instead of Wednesday this year, several programs were pushed into just two days instead of three.
"Creating a Culture of Consent" replaced "Sex Signals" as a program aimed to educate about and help prevent sexual harassment and misconduct on campus.
Keith Edwards, a nationally recognized speaker, visited campus to discuss with new students the subjects of sexual violence prevention, men's gender identity and social justice.
"While the actual Sex Signals act was taken out, we still kept that content," Hornickel said.
Edwards also spoke on growth-mindset concepts and the importance of setting goals.
Small group sessions between students and their peer mentors remained part of this year's orientation, along with the traditional activities such as R-U-Purple and Hawkfest, where new students attend a rally in Perkins Stadium and paint Warhawk Drive.
Due to rain, the road painting was rescheduled for 7 p.m. on Sept. 6.
"We still continued to do our long-standing tradition-building event of R-U-Purple," said Hornickel. "We recognize that it's such an important part of our orientation here, so we absolutely kept that part."
Feedback from students and faculty members from previous years helped push for the changes while still seeking to make new students feel welcome.
"There's a lot of research out there that shows if students feel like they're a part of something bigger and feel like they belong in their environment, then they're more likely to succeed," Hornickel said. "We want to help students with that transition to college and help them succeed here.
"The changes made this year were very effective in helping the new students get oriented to campus," lead peer mentor Ben Clark said. "Overall, the sessions went really well, and I feel as though the students were able to really experience campus from a college student's perspective for the first time."