The new and improved Bark Park
City Parks & Rec, Public Works relocate dog park
   City of Whitewater officials and community members marked the June 13 opening of the new "Bark Park" with the slice of a ribbon.
   Bark Park, located on the corner of Jefferson Street and Starin Road, was previously home to Industrial Park. At the new-and-improved park, community members can bring their pets outdoors year-round on a four-acre plot of land. The park has a segregated small dog area with a gated entrance and a parking lot with eight stalls. 
   "Our space before was a very wet piece of property that was very hard to maintain," said City of Whitewater Parks and Recreation Director Eric Boettcher. "This new plot of land is easier for community members to find and has remained much easier to keep up, even with all the rain Whitewater has recently experienced."
   Previously recorded in the city's tax roll of 1927 under the business Whitewater Clay Products Company, the location later became a brick factory owned by the Kienbaum family, which owns the Kienbaum Iron & Metal salvage yard in Whitewater. From 1986-2000, the space remained unused due to concerns of soil contamination which was remediated from 2000-2006.
   "In that time, layers of healthy new topsoil were added to make this land safe and usable for the community and their four-legged friends," City Manager Cameron Clapper said. "We're grateful for the efforts of Parks and Recreation, but also our Public Works department and Streets and Forestry division. They all did an amazing job."
   Planning for Bark Park began last October after community members expressed interest in having a dog park at Common Council meetings.
   "We had the resources to give the community what they asked for and what they wanted," Boettcher said.
   Some community members said they feel safer taking their dogs to a more open and inviting environment.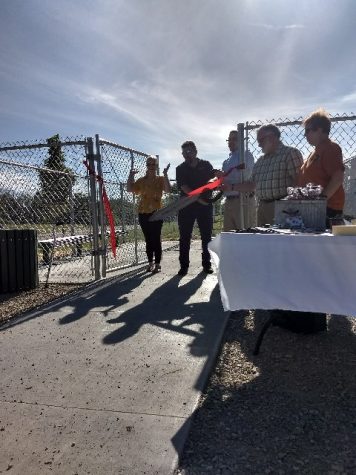 "The new park is a 100 percent improvement over the old park," said Dan Navarre, a regular visitor. "In the old park, dogs were able to dig under the fence and run off. The fence construction is much improved in the new park. We're grateful to the city, especially Eric, for the investment in the new park."
   Bark Park is a sponsorship program that uses donations from community members and organizations. Parks and Recreation hopes to add amenities that include water fountains, play toys, and trees for shading.
   Public Relations and Communications Manager Kristin Mickelson said community members can donate to the city by buying trees or benches that could reside in the
park in honor of pets that have passed away.
   "We wanted to give community members the choice on how they want to personalize and add more meaning to a place that's a part of their daily life," Mickelson said.
   While some residents might be more excited than others, the Bark Park has local four-legged friends in mind.