Vukmir draws large crowd
Students flock to listen to US Senate candidate
The University of Wisconsin-Whitewater College Republicans hosted Wisconsin Senate candidate Leah Vukmir Oct. 17. Vukmir is currently closest competitor to incumbent Sen. Tammy Baldwin.
The event drew a large crowd, nearly filling a lecture hall in Hyland Hall, and members of the group who put the event together said they were happy with the message it sent.
"It was very humbling to Warhawks of all ages and political parties coming to see Leah speak," freshman Brian Martinez said, "The fascinating part is that more people showed to see Leah Vukmir than they did to see Tammy Baldwin when she same to campus a couple weeks ago. If that doesn't show that her message is resonating with student voters, I don't know what will."
While many students in attendance were members of the College Republicans, some attended to hear perspective from the other side of the isle.
"I would consider myself slightly more left leaning," sophomore Joey Arnold said. "I had heard a lot about her and wanted to see what she had to say. I'm glad that we are able to have these events respectfully here on this campus."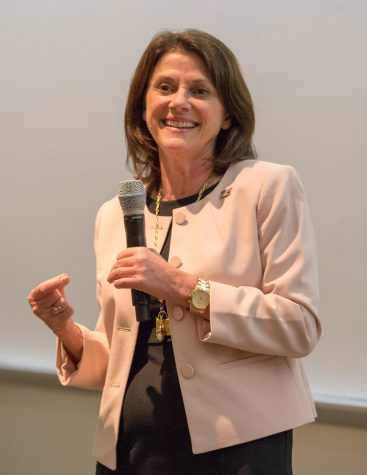 Vukmir spoke about many aspects of her campaign, and also her life as a daughter of Greek immigrants, her experience as a nurse and military mom. She also finished her speech with a call to action for all in attendance regardless of political affiliation.
"My call to all of you is to talk to those who don't agree with you politically," Vukmir said. "Don't talk to them about politics, just talk about life or sports or something else, but try to gain that understanding."
"Leah is fantastic," Martinez said. "Her campaign has momentum and people are really resonating with her message. Having her on campus was great."