Warhawks finish the job
UW-W football clinches WIAC title outright
UW-Whitewater football head coach Kevin Bullis said last week the team was not keen on sharing the Wisconsin Intercollegiate Athletic Conference title after defeating UW-Stout.
The No. 5 football squad proved him right by taking care of UW-Stevens Point 59-7 at Perkins Stadium Nov. 3, officially clinching the Warhawks' 36th conference championship on Senior Day.
"It feels awesome," Bullis said. "We set a goal of winning the conference championship at the beginning of the season…the fellas did it in grand fashion and that was fantastic."
The Warhawks have now outscored their opponents 373-43 throughout the season.
Whitewater's quarterbacks during the game had a combined seven touchdowns.
The Warhawks' first touchdown play was senior quarterback Cole Wilber's first ever touchdown reception. The play occurred with just over nine minutes left in the first quarter that saw sophomore running back Alex Peete take the direct snap, hand the ball to junior wide receiver Josh Ringelberg, who lobbed the pass to Wilber in the right side of the end zone.
Wilber named this play the "Cali special."
"I always kind of nudge at [Coach Peter] Jennings like, 'I need one, I need one,'" Wilber said. "It's all fun and games."
Wilber connected with sophomore wide receiver Ryan Wisniewski for a 14-yard touchdown pass midway through the second quarter. The score was the Wilber-Wisniewski duo's sixth touchdown this season.
Minutes later, the senior quarterback completed a 7-yard touchdown pass to junior tight end Julio Perez after faking the handoff to Peete, giving the Warhawks a 21-0 lead.
Wilber threw an interception early in the third quarter but responded strongly by gunning a 52-yard touchdown pass to senior wide receiver Mitchell Dess after Peete scored a 2-yard touchdown run of his own a minute earlier, giving UW-W a 38-7 lead.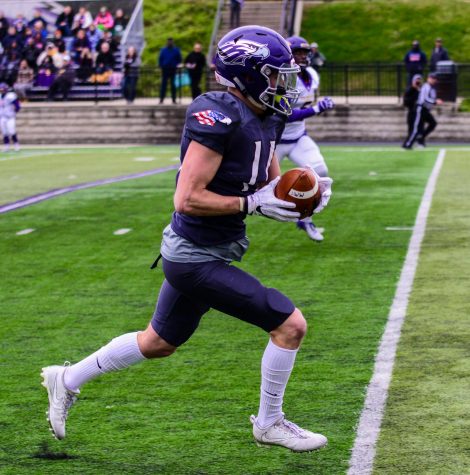 Grace Holler

Wilber ended the day 17/27 for 228 yards, three touchdowns and one pick.
"His senior game was perfectly fitting," Bullis said. "His growth has been just fantastic. He throws that one pick and comes back, and he's just throwing laser beams."
Junior running back Ronny Ponnick rushed a 2-yard touchdown to extended Whitewater's lead 45-7.
Freshman wide receiver Tyler Holte caught two touchdown passes from each of UW-W's backups, sophomore Zach Oles and freshman Brennan Demark.
The defense allowed just 226 yards along with a forced fumble and recovery. Senior defensive end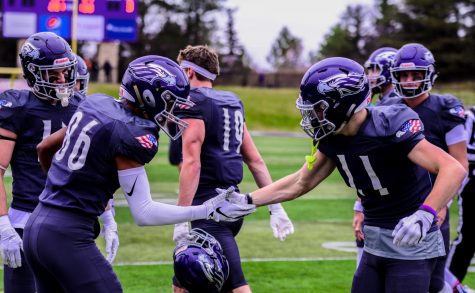 Harry Henschler forced the fumble allowing junior defensive back Nate Tranel to fall on top of the ball.
Whitewater's final regular season game takes place next week at UW-Platteville before returning to Perkins Stadium for the first round of the playoffs.
"You got to put the work in," Henschler said. "I think some of the work we've put in is starting to show."