Candidates finish campaign trail at UW-W
   Governor-elect Tony Evers and U.S. Senator Tammy Baldwin made a final campaign stop at the University of Wisconsin-Whitewater Nov. 5, one day before they each won their respective races in the 2018 elections.
   Evers and Baldwin, who were joined by state assembly member Don Vruwink and state treasurer Sarah Godlewski, spoke about issues such as healthcare, education and getting young adults to vote.
   The quartet of Democrats looked upon a room packed with UW-Whitewater students, faculty members and Whitewater residents in the University Center Room 69. The group of politicians urged everyone to go vote Nov. 6.
   "If we get people starting to vote early, they will continue to vote for the rest of their lives," Evers said.
   The first speaker was Godlewski, a first-time candidate. She spoke about reducing student debts and the ability to refinance student loans. Her words garnered a positive reaction from the students and applause throughout the entire room. She finished her speech by endorsing Mandela Barnes, the Democratic candidate for Lieutenant Governor and Evers' running mate.
   Next to speak was Baldwin, who was the incumbent Senatorial candidate. Along similar lines, she spoke about the ability to refinance student loans but moved on to cover healthcare and tax breaks. Baldwin said she was excited to be in a place with so many young people.
   "You bet I'm excited to be at UW-Whitewater, and I want the entire student body to vote," Baldwin said. "I want young people to recognize their power in a democracy."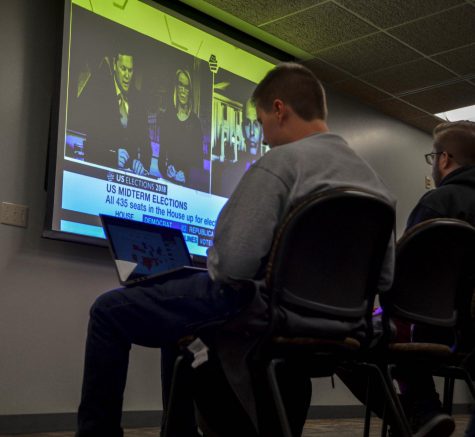 Grace Holler
   Baldwin spoke to the crowd about how she had a childhood disease and had trouble finding insurance with a pre-existing health condition. She criticized outgoing Wisconsin Governor Scott Walker's "intolerance" to those with a preexisting health condition, and his proposed healthcare plan.
   The last candidate to speak was Evers, the former state schools superintendent and now the state's governor-elect  He endorsed both Vruwink and Barnes.
"UW-Whitewater is on the ballot," Evers said, citing his wish to increase funding for the UW-System.
   Evers spoke about the Wisconsin governor's ability to replace six members of the UW-System's Board of Regents and how he feels it's important for the upcoming governor to value education.
   He told the crowd he plans to raise state infrastructure spending and fill in "Scott-holes" in our roads. Evers' message was largely critical of Walker, his political adversary. Evers said Walker was "unfit for office and puts his own political ambitions ahead of Wisconsinites."
   Evers spoke last about how he plans to increase the funding for the state's Department of Natural Resource, which has seen increased responsibilities despite lower funds in the last years.
   After a long round of applause, Evers put down the mic and walked off stage, but was greeted with a chorus of "Happy Birthday" by the UW-Whitewater College Democrats.
   All four politicians the students had just seen went on to win their respective races Nov. 6.