Ghost photoshoot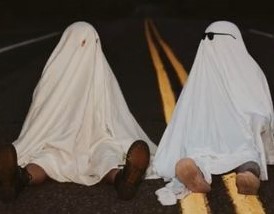 There's a new trend on the popular app TikTok for this upcoming fall season. People are going out with friends with only their phone camera and a white sheet to create vintage looking photographs dressed as ghosts.
         This trend is a cheap, fun and COVID safe activity to do with your friends, on your own, or even with your pets. All you need is a camera, editing app and a white sheet. This has been a fast-growing trend on Tik Tok. Many people who participate in this challenge obtain thousands of likes and views.
         "Probably one of the most fun things I've done in a while, highly recommend," said one TikTok user who participated in the challenge themselves.
         Even though it is only September, TikTok users are getting into the Halloween spirit early with this trend. It is the perfect trend for everyone, even people who might be uncomfortable in front of the camera. This is because the whole point of the trend is to take photos of a cheesy looking ghost, so no one will see your face. It is also a great idea for couples this fall.
         "I [want to] do a cute ghost photoshoot so bad," said one user on Twitter.
         This trend is getting everyone into the Halloween spirit and something fun to do during the fall time. With a Fall aesthetic background, a white sheet and a camera, this challenge can get you tons of likes and shares on Tik Tok, Twitter and Instagram.
         Everyone on Twitter has been obsessing over this trend and the #GhostPhotoshoot currently has 723.4 million views on Tik Tok. This challenge has become one of the biggest challenges of September and is expected to keep growing up until Halloween.
         It is an easy and cheap way for you and your friends to get out of the house and kill a few hours, plus it will make you popular on social media. Current #ghostphotoshoot has over a thousand posts on Instagram. Even though the trend originated from the app Tik Tok, it is starting to become more popular on other apps as well like Instagram and Twitter.
         "If I went out and purchased some white sheets would anyone be down for a spooky ghost photoshoot?" A Twitter user asks their followers.
         This challenge is a great way to bond with friends and create some spooky memories this Fall. Pull out your phones, grab a sheet and some friends and participate in the #GhostPhotoshoot challenge.