Trick-or-treat
Whitewater Parks and Recreation moves forward with Halloween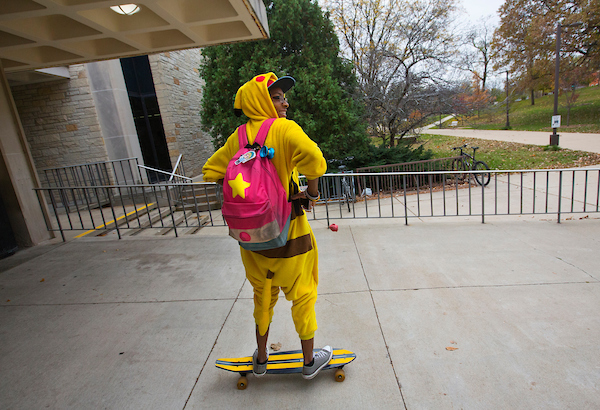 As the COVID-19 pandemic creeps into the Halloween season, community members wonder about what the outcome of Halloween will be this year. During the city of Whitewater's virtual Common Council meeting held Tuesday, Oct. 6, City Manager Cameron Clapper announced that the Parks and Recreation board passed the council's Halloween trick-or-treating action.
"The board voted to move forward with allowing Halloween. It is voluntary, so if you don't feel comfortable, you can just turn out your light. You don't have to participate," said Boettcher. "Being an outdoor activity, we felt we could do this for the community safely."
Every year, the Parks and Recreation board is in charge of taking action on the Halloween trick-or-treating plans.
"I asked the Parks and Recreation Director Eric Boettcher to provide an update on the plans for Halloween in Whitewater. There was a discussion at the last meeting regarding trick-or-treating with an action to go ahead and allow for it moving forward," said Clapper.
The Center for Disease Control advised against several Halloween activities in a statement Sept. 21. It also offered guidance for how to more safely participate in lower-risk activities.
"Many traditional Halloween activities can be high-risk for spreading viruses. There are several safer, alternative ways to participate in Halloween," states the CDC holiday recommendations page. "If you may have COVID-19 or you may have been exposed to someone with COVID-19, you should not participate in in-person Halloween festivities and should not give out candy to trick-or-treaters."
To help encourage safe COVID-19 conduct, the Parks and Recreation board created guidelines for this year's trick-or-treating event. The guidelines include disinfecting highly touched areas, wearing gloves while handing out candy, and avoiding handing out candy if you are not feeling well.
"One of the other things that helped us with this decision was we did have a poll question. Over 80 percent of people felt that we should have Halloween. Sixty-eight percent said not to cancel," said Boettcher. "Our Polco questions really show that we should move forward with Halloween."
For community members with a sweet tooth who do not wish to participate in the trick-or-treating event, the Parks and Recreation board has put together trick-or-treat buckets that people can order for $7 a piece. Community members can order the trick-or-treat buckets on the Parks and Recreation website.
This year's Halloween trick-or-treating event will take place Saturday, Oct. 31, from 4 – 7 p.m.