Intramural volleyball serves up finals
Thursday, Nov. 19 marked the finals of this season's intramural volleyball at the University of Wisconsin-Whitewater. Championship games began for both the Co-Recreational A and B brackets, proving that the university was successful in working through the kinks that COVID-19 caused for this semester. Students seemed to be adamant about having recreational opportunities available to them even during a pandemic, and the intramural program was determined to make them happen.
"We were hoping for an enrollment number of 32 teams and we got 29," said assistant director of Intramural and Club Sports Matt Schneider. "We are happy and fortunate for how the season went. We surpassed our goals for the semester." 
The intramural league followed university guidelines on COVID-19. The biggest gathering allowed consists of ten people, so volleyball became a 3 vs 3 game for the season. This means that four players from each team can check in to play with one official and one other person there to sanitize things as they go, to make a total of 10. Masks were required at all times, no questions asked. Before even playing each teammate would have their temperature taken and were required to was both their hands and arms to ensure safety. An equipment room in the gymnasium was converted to a desensitization and washroom so a clean volleyball was always being used and play at the net was strongly discouraged.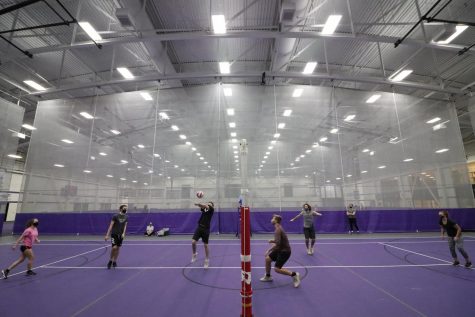 "I thought the season went well. It was short and went by quick, but I had fun.  It was good to get into the gym and play again.  It was a little different with the rules and 3v3 play but overall, I think it was very successful and glad I was able to participate in the season," said assistant volleyball coach Keith Scheckel.
Basketball is a top University sport, but it is just too physical to be safe in this time of a global pandemic. Volleyball was also not able to be six vs six this year, but students were more than willing to compromise and work with the guidelines provided. The main goal of providing these opportunities was to encourage students to get out and have fun in a safe way. Entrance fees were even lowered due to the inconveniences.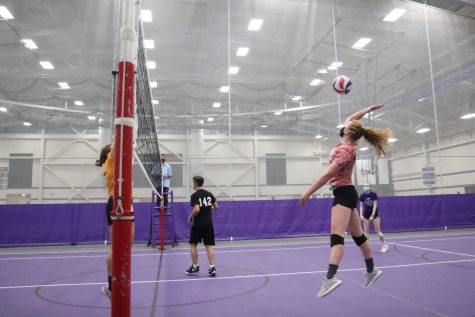 "My teammates and I were thankful that Matt and his staff were able to find a way to allow us to play. It got us out of the house and into the gym and active playing a sport we love," said team captain Clay Martinson.
Martinson's team won the season for the Co-Recreational A bracket, and Captain Emma Hoscheit's team Fantastic Four won the Co-Recreational B bracket.
The university was able to reach its goal of in-person classes until Nov. 20 with minimum difficulties from COVID-19, and no cases were tracked back to intramural or club sports. Due to its success, the intramural program can offer more events with modifications as best as possible. Before the end of the semester, there will be volleyball, bag toss, badminton and horse basketball tournaments available for students to participate in, with more to come in the spring semester.
 For more information, visit https://www.uww.edu/rec-sports/intramural-sports